ITSA Operations
Overview of the Information Technology Services Agency (ITSA) and its operations.
ITSA was created under Ordinance 65798.  The IT Director reports to the Mayor, after being confirmed by the Board of Estimate and Apportionment. The department has 44 employees and a budget of $6 million.
ITSA serves most City Departments which report to the Mayor as well as the Board of Aldermen, Comptroller, License Collector, Treasurer, and Collector of Revenue.
The following agencies have independent IT sections and work collaboratevely with ITSA; St. Louis Lambert International Airport, St. Louis Metropolitan Police Department, Water Division, Treasurer, and Collector of Revenue. 
Hardware Support
Our Hardware Support Teams work with legacy and virtual machine infrastructures to support software systems.  They also provide desktop support to city employees and staff the help desk.
Software Support
Our Software Support Teams provide development and maintenance on numerous products in use across numerous city departments.  Software products span the spectrum from legacy, in-house built systems to 3rd party, off-the-shelf products. The two major server platforms supported are IBM and Microsoft.  
Web Support
Our Web Support Team is responsible for www.stlouis-mo.gov, the City of St. Louis official website.  The team manages the front-end design, the back-end systems of the website, and develops web-based custom applications.
Learn about the Web Development section
Organizational Chart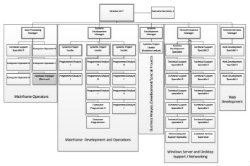 View and download current ITSA organizational Chart