Mavis Thompson
License Collector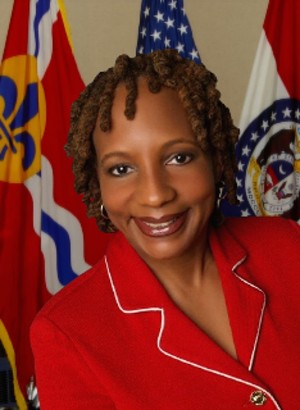 Mavis T. Thompson, Esq. obtained her Bachelor of Science degree in nursing and Juris Doctorate from the University of Missouri. She is also a graduate of the John F. Kennedy School of Government program at Harvard University. Thompson is a past President of the National Bar Association, leading lawyers and judges worldwide. Her legal experience includes; Assistant Attorney General in the Medicaid Fraud Control Unit, Senior Associate Attorney in the Health Law practice group at Sandberg, Phoenix P.C., and serving on the State of Missouri's Division of Employment Security Appeals Tribunal. She also previously served as prosecuting attorney for the Cities' of Berkeley, Dellwood and Wellston, Missouri.
On October 11, 2013 Governor Jay Nixon appointed Thompson as License Collector for the City of St. Louis and upon winning both the primary and general elections in 2014,  Thompson again makes history as the first African American female to serve the City in two different citywide elected offices, having also served as Circuit Clerk for the 22nd Judicial Circuit.
Thompson is active in the St. Louis community and her commitment to youth, senior citizens and education are reflected in the numerous public service initiatives she undertakes. Her numerous professional and civic memberships include the National Bar Association, American Bar Association, Mound City Bar Association, the Women Lawyers' Association of Greater St. Louis, Legal Services of Eastern Missouri and the Board of Trustees at the Mt. Herald Missionary Baptist Church. Thompson is also a proud member of Delta Sigma Theta Sorority Inc.
Thompson is committed to improving efficiency and service through training and applied science. Her personal motto is, "each one must teach one".
Contact Information
Address:
City Hall - Room 102-104
1200 Market Street
St. Louis, Missouri 63103