This article is 6 years old. It was published on July 20, 2016.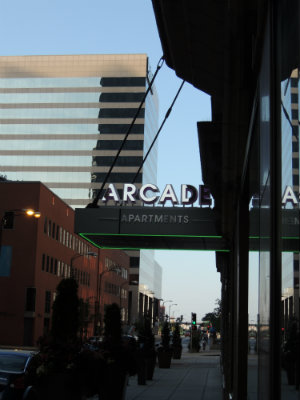 ST. LOUIS – Marking one of the highest increases in construction value from year to year, more than $1 billion worth of total added construction value has been made to neighborhoods and business districts in the City of St. Louis. The City's Building Division issued 4,929 building permits and 15,735 trades permits (mechanical, electrical, and plumbing permits) for residential and commercial construction in fiscal year 2016.
The total construction value from FY16 building permits equaled just more than $700 million dollars, an increase of nearly $75 million dollars over last year. The 12 percent increase represents all types of construction projects, including office rehabs, new lofts, hospital construction, single family and multi-family residential construction, as well as new and rehab commercial construction.
When combined with the $300 million dollar construction value from mechanical, electrical, plumbing permits, the total value of FY16 construction in the City of St. Louis topped more than $1 billion.
"The healthy, sustained construction activity we've seen for the past three years in a row matches the addition of new jobs and businesses we've welcomed to the City of St. Louis," Mayor Francis Slay said. "We expect this trend to continue next year with several major upcoming projects, including the Armory, Jefferson Arms, and the Railway Exchange, as well as residential affordable housing projects planned for North Sarah, Adams Grove and East Fox Homes, among others."
"I am very happy to see the large numbers of dollars invested in expanding and strengthening our central corridor, but equally pleased to see residents investing in their homes and neighborhoods, especially in Gravois Park and Benton Park, which both showed significant increases," Building Commissioner Frank Oswald said.
Oswald added that the Building Division also saw a surge in construction activity around the Stan Musial Veterans Memorial Bridge and the North Riverfront.
"We see evidence of strong anchors helping to foster other growth and development," Otis Williams, Executive Director of the St. Louis Development Corporation, said. "Take Cortex, for example, which has $500 million dollars worth of development inside its footprint and has leveraged an additional $500 million dollars in the way of new businesses like Whole Foods and new apartment buildings like The Standard outside of its footprint."
Mayor Slay added, "We anticipate the imminent relocation of the National Geospatial Intelligence Agency and its significant investment in the City of St. Louis will fuel future growth and development in the City of St. Louis."
In FY16, the Building Division issued construction permits in each of the 28 wards of the City.
Wards by overall investment:
1. 17th Ward: $301.4M
2. 19th Ward: $80.9M
3. 28th Ward: $76.6M
4. 7th Ward: $58.0M
5. 18th Ward: $31.6M
6. 6th Ward: $23.8M
7. 2nd Ward: $21.3M
8. 9th Ward: $21.0M
9. 8th Ward: $12.5M
10. 5th Ward: $9.5M
11. 11th Ward: $9.5M
12. 4th Ward: $8.4M
13. 26th Ward: $6.3M
14. 10th Ward: $5.6M
15. 20th Ward: $5.1M
16. 15th Ward: $5.0M
17. 16th Ward: $4.7M
18. 24th Ward: $4.6M
19. 1st Ward: $2.9M
20. 23rd Ward: $2.2M
21. 12th Ward: $2.0M
22. 3rd Ward: $1.7M
23. 13th Ward: $1.4M
24. 14th Ward: $1.3M
25. 25th Ward: $1.3M
26. 22nd Ward: $1.1M
27. 21st Ward: $450K
28. 27th Ward: $148K
Department:


Office of the Mayor
Building Division