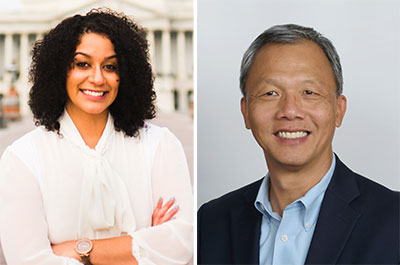 Today, Mayor Tishaura O. Jones announced the appointment of Simon Huang as St. Louis' Chief Technology Officer and Monica "Mo" Del Villar as head of the Civil Rights Enforcement Agency.
"From bridging the digital divide to protecting civil rights, our latest appointees will help make our city more competitive and a fairer place to live for everyone - no matter any identity they hold," said Mayor Tishaura O. Jones. "I welcome Simon Huang and Monica Del Villar to our growing team."
A long-time St. Louis resident, Huang has held leadership positions in both private and public-sector organizations and was most recently in management consulting. He has worked alongside various stakeholders in the region including industry, business, cultural, ethnic and non-profit organizations such as Society for Information Management, FOCUS St. Louis, Community Council of St. Charles County and Asian American Chamber of Commerce. Huang is a graduate of Washington University. He will begin on December 1.
Del Villar joins the City of St. Louis from the American Civil Liberties Union of Missouri, where she works as a legislative and policy associate evaluating, reviewing, drafting, and editing state and local legislation on issues including voting rights, criminal & juvenile justice reform, First Amendment protections, reproductive freedom, LBGTQ advocacy, and immigrants' rights. Prior to joining the ACLU of Missouri, she served as director of interim legal talent at Major, Lindsey & Africa. Del Villar has experience from Capitol Hill, serving as a legal and law clerk for Senators Cory Booker and Brian Schatz as well as a legislative fellow for Congresswoman Frederica E. Wilson. Del Villar's first day is December 6.
This is the latest in a series of appointments Mayor Jones has made to key City positions, including Yusef Scoggin as Department of Human Services, Sheena Hamilton as City Counselor, and Dr. Mati Hlatshwayo Davis as Director of the City of St. Louis Department of Health. A full list of the mayor's cabinet can be found on the City's website.
Contact Information:


Nick Dunne
Public Information Officer
Office Phone: (314) 622-4072

Department:


Office of the Mayor
Information Technology Services Agency
Civil Rights Enforcement Agency