This article is 2 years old. It was published on March 24, 2021.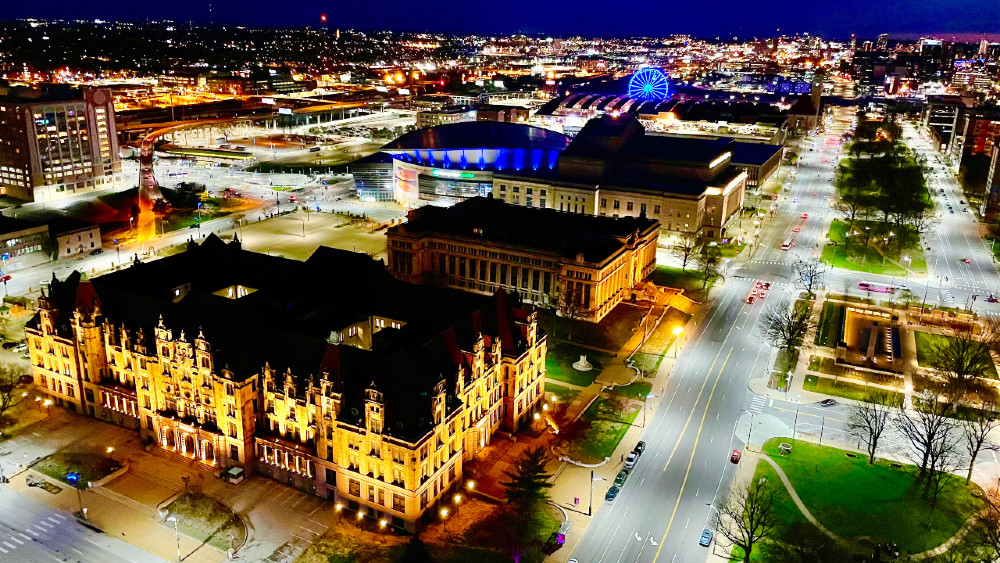 During a brief outdoor and socially distanced ceremony, Mayor Lyda Krewson tonight officially flipped the switch on new exterior lighting at City Hall that was generously donated by the Gateway Foundation.
"We are enormously grateful to the Gateway Foundation for this magnificent gift that will illuminate one of the St. Louis region's most iconic buildings," said Mayor Krewson. "After more than a century, this grand and historic building will at last be on gorgeous display each night and add to downtown's sparkle and vibrancy."
Previously, St. Louis City Hall was only lit at night by a few rudimentary floodlights. However, thanks to the Gateway Foundation, it is now lit nightly by about 120 new LED lighting fixtures that cover all four sides of the building in dramatic exterior up-lighting and accent key features, including entry portals and the clock on the Tucker Boulevard (east) side.
Gateway's contribution, valued at $400,000, includes all lamps, lighting fixtures, poles, wiring, and any other equipment. The City will be responsible for maintenance and the cost of utilities, which is expected to be minimal per year.
The LED lamps involved in the project have a total lifespan of more than 50,000 hours, which is equivalent to nearly two decades depending on how many hours the lights remain on each night. The City anticipates lighting City Hall seven nights a week from approximately dusk to 2 a.m.
Gateway chose to make this donation because of City Hall's historic significance and aesthetic merit. The structure, inspired by the City Hall of Paris and completed in 1904, was designed in a French Renaissance Revival style to pay homage to the City's French heritage and is widely considered to be an architectural gem.
"The façade of St. Louis City Hall features three kinds of stone – yellow brick and sandstone, with pink granite at the base," said Randy Burkett, whose company, Randy Burkett Lighting Design, handled the design work on the project. "This was challenging, but fortunately LED lighting offers a wide variety of options that enabled us to successfully illuminate the entire building in a warm light. We are honored for the opportunity to use light in revealing one of the City's architectural landmarks."
Randy Burkett Lighting Design has also designed the lighting of the Gateway Arch and Arch Park, Kiener Plaza, Soldiers Memorial, and the Cortex Research Park in St. Louis, as well as projects across the country. RJP Electric of St. Louis is the installer.
The new installation at City Hall ranks among one of the most expensive and ambitious exterior lighting projects undertaken by the Gateway Foundation, which has also lit the Civil Courts Building, the Old Courthouse, the Missouri History Museum, and other area structures. In addition to these projects, the Gateway Foundation also developed Citygarden, the world-renowned sculpture and botanical garden between 8th & 10th and Chestnut & Market Streets downtown.
Construction on the City's current City Hall at 1200 Market St. started in 1890. Though the building was not completed, it was initially occupied in 1898. In 1904, the final portions of the building were completed for a total cost of $1,787,159.16. City Hall was designated as an official City of St. Louis landmark in 1971. You can learn more about the structure's unique history and other City landmarks here.
Contact for the Gateway Foundation:
Paul Wagman
wagmanp@outlook.com
(314) 606-1283