This article is 8 years old. It was published on August 31, 2015.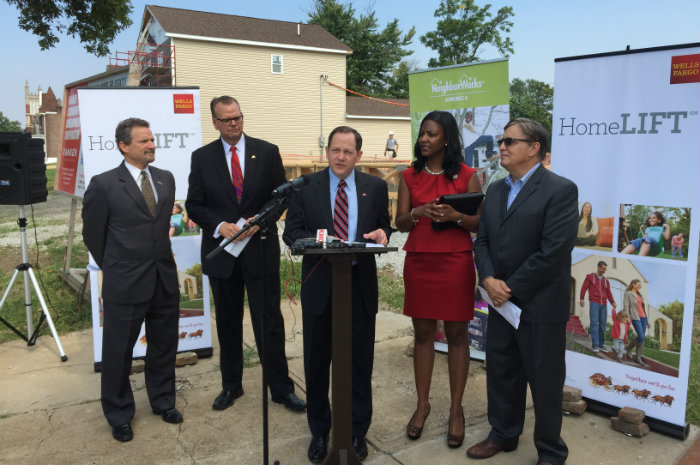 ST. LOUIS–Mayor Francis Slay and Treasurer Tishaura Jones joined Wells Fargo, NeighborWorks America®and its network member Beyond Housing to announce the $4.75 million St. Louis Wells Fargo HomeLIFT℠program to help boost homeownership and strengthen neighborhoods in the City ofSt. Louis.
"Making homeownership more affordable will enable more hard-working families and individuals to achieve homeownership and help makeSt. Louisneighborhoods even stronger," said Mayor Slay. "This innovative public-private collaboration will make a significant difference for families and neighborhoods through sustainable homeownership. Being able to own a home helps individuals and families establish equity, become more financially empowered, support stable families, be more involved in their communities, and get on a path toward upward mobility."
Of the HomeLIFT program funds forSt. Louis, $4.1 million will go toward forgivable down payment assistance grants to help potential homebuyers overcome the barrier of making a sufficient down payment.
"While theSt. Louiseconomy continues to show signs of improvement, many families have yet to re-enter the housing market because they struggle with making a down payment," said Kirk Kellner, Wells Fargo regional president. "Combined with financial education, these down payment assistance grants can make a tremendous difference for families and individuals who want to own a home in the City ofSt. Louis."
Two-hundred-nineteen (219) qualified low- and average-income families and individuals will receive a forgivable $15,000 down payment from Wells Fargo to be put toward owning a home in the City ofSt. Louis. HomeLIFT funds can be applied to approved lender and renovation loans.
Eligible homebuyers must earn annual incomes that do not exceed 120 percent of the local area median income –which is about $84,350 for a family of four inSt. Louis–with income maximums varying depending on family size and type of loan. To be eligible, homebuyers must meet criteria, such as completing an eight-hour homebuyer education session with Beyond Housing, a HUD-approved counselor.
Registration now open for free HomeLIFT event on Sept. 25-26
The Wells Fargo HomeLIFT program will begin with a free homebuyer event on Sept. 25-26 from 10 a.m. to 7 p.m.at the America's Center Convention Complex, located at 701 Convention Center Plaza in St. Louis.
Prospective homebuyers can register and learn more about the program at www.wellsfargo.com/homelift  for by calling (866) 858-2151. Pre-registration is strongly recommended for an opportunity to reserve a $15,000 down payment assistance grant, although walk-ins will be welcome while funds are available for reservation. The event also includes a Wells Fargo Affordable Home Tour®viewing center where attendees can preview homes available for sale throughout the City ofSt. Louis.
To reserve a grant, participants buying homes with LIFT program down payment assistance grants must commit to live in the home for five years and qualify for a first mortgage on the property. The down payment assistance grants may also be used to buy a home that needs improvements with a new mortgage purchase 203k renovation loan.
"This innovative collaboration between NeighborWorks America, our network member, Beyond Housing, Wells Fargo and the City of St. Louis will put more families and individuals on the path to homeownership," said John Santer, regional vice president, Midwest Region, NeighborWorks America with NeighborWorks America. "The required housing counseling and education classes provided by certified professionals have been shown to help people achieve their goal of sustainable homeownership."
The Wells Fargo HomeLIFT program down payment assistance grants may also be combined with other down payment assistance programs to provide additional financial benefit to qualified buyers. Information regarding these other programs will be available at HomeLIFT events. Participating homebuyers can obtain mortgage financing from any qualified lender. 
Beyond Housing will determine homebuyer eligibility and administer the down payment assistance grants. Approved homebuyers will have up to 60 days to finalize a contract to purchase a home inSt. Louisto receive a grant.
"We are ready to help families qualify for the Wells Fargo HomeLIFT program down payment assistance grants," said Chris Krehmeyer, president &CEO, Beyond Housing. "Wells Fargo's investment will help individuals and families become homeowners, and make theSt. Louiscommunity stronger."
St. Louis is now one of 38 housing markets across the country that will benefit from more than $278 million Wells Fargo has committed through its LIFT programs. Since February 2012, LIFT programs have helped create more than 9,700 homeowners in the 37 communities where the programs have been introduced. A video about LIFT programs is posted on the Wells Fargo YouTube Channel.
2015 Income Limits Table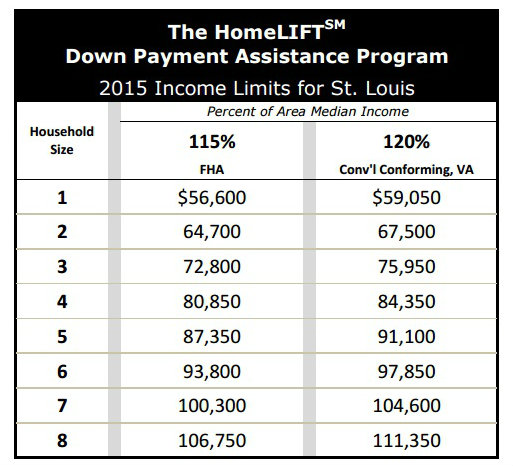 About Beyond Housing and NeighborWorks America 
Beyond Housing is a chartered member of NeighborWorks America, a national organization that creates opportunities for people to live in affordable homes, improve their lives and strengthen their communities. NeighborWorks America supports a network of more than 235 nonprofits, located in every state, the District of Columbia and Puerto Rico. Visit www.beyondhousing.org or www.neighborworks.org to learn more.
Wells Fargo & Company (NYSE: WFC) is a nationwide, diversified, community-based financial services company with $1.7 trillion in assets. Founded in 1852 and headquartered in San Francisco, Wells Fargo provides banking, insurance, investments, mortgage, and consumer and commercial finance through 8,700 locations, 12,800 ATMs, the internet (wellsfargo.com) and mobile banking, and has offices in 36 countries to support customers who conduct business in the global economy. With approximately 266,000 team members, Wells Fargo serves one in three households in the United States. Wells Fargo &Company was ranked No. 30 on Fortune's 2015 rankings of America's largest corporations. Wells Fargo's vision is to satisfy all our customers' financial needs and help them succeed financially. Wells Fargo perspectives are also available at Wells Fargo Blogs and Wells Fargo Stories.