Convert Hardscape Areas To Pervious Surfaces
A permeable surface is one made from materials that allow stormwater to move through the surface and soak into the ground.
Description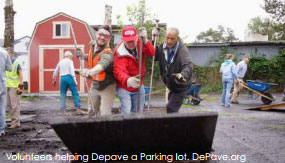 A permeable surface is one made from materials that allow stormwater to move through the surface and soak into the ground. Permeable surfaces can replace current hard surfaces like parking lots, alleys, driveways, patios, and compacted soils. Permeable surfaces can be permeable paving, rain gardens, green spaces, porous concrete, pervious asphalt, or another material. They reduce the negative impacts of paved surfaces, including urban heat island effect, poor air quality, stormwater runoff, flooding, water pollution, non-absorption of groundwater, and continual long-term maintenance while creating new community public spaces.
Related Tools
When paired with other tools, creating more permeable surfaces can contribute to a safer, healthier, and more beautiful neighborhood. Think about neighborhood greening, community gardens, bike hubs, rain gardens, and bioswales. Try combining permeable surfaces with:
Community Projects
Add your project
Neighborhood Benefits
Environmental
Reduced urban heat island effect, air pollution, water pollution, stormwater runoff, risk of flooding, and long term maintenance cost Increased biodiversity, urban habitat, tree canopy cover, ground water absorption, and beautification, if using landscaping and greenspace
Social
Reduced blight from abandoned or poor condition parking lots
New neighborhood public space, garden, or landscape
Reduced crime and improved safety and neighborhood appearance 
Opportunity for residents to reconnect with nature
Economic
Reduced cost of maintaining vacant or underused lots
Improved neighborhood appearance, safety, and value with reduced vacancy and underuse 
Get Started
Choose a Site Determine which hard or impervious surfaces you want to recreate or talk to some property owners to see if they are interested in participating in this kind of project. If you have a vacant site in mind, you'll need to contact the St. Louis LRA about obtaining the property or doing any kind of work on the property. If working in the public right of way with alleys, parking spaces, or streets, work with the Street Department and the Board of Public Service.
Choose Materials Use the resources of the Metropolitan Sewer District (MSD) or the Permeable Pavement Alley Pilot Study to determine what kind of permeable surface will be most appropriate for your project: Pervious concrete, porous asphalt, permeable interlocking concrete pavements, or grass pavers.
Considerations If you are working with a site that will become a public space after renovation, DePave, a Portland, Oregon-based organization, has been spearheading projects and their website offers many case studies and an in-depth how-to guide for completing this kind of project. You will need to consider:

What kind of space are you making? It can be a community garden, an educational garden at a school, a flower or pollinator garden, a bioswale, or another kind of place. 
Who will be responsible for the long term maintenance of the new place? If it is public, will it be a park? You should coordinate with your neighborhood association and the City Parks Department for proper planning process. If it is on private property, that owner would be responsible for maintenance, liability, and security.

The how-to guide addresses other issues like site planning, soil quality, food growing options, permitting, the construction day, volunteers, and more.

Fund Funding for these kinds of projects may be available through grants, competitions, or community fund-raisers. Contact your neighborhood association for help.
Get Permits When doing construction, you will need permits from the city, so contact the Building Permits Division or the Demolition Permits Division.
Install Construction can be a community building experience with volunteers and other residents installing permeable surfaces. Experts may be needed, so coordinate beforehand with material vendors. Contact MSD and professional installers if creating a rain garden or bioswale. Work with the contractors of those companies to schedule construction. Before you begin construction, carefully organize your workday participants and volunteers. Make sure everyone has a role, is using proper safety equipment, and you have the proper scale of demolition and construction equipment. Before you dig, call the Missouri One Call System to have them locate underground utility lines.
Dispose of Waste Recycle your demolition materials. Concrete can be reused and asphalt can be recycled.
Clean Site If you plan to grow food, you will need to prepare the soil for planting. Details about this are also in the Depave How to Guide. When you are ready to plant you can find information about native plants, rain gardens, and bioswales from those respective tools. 
Related Categories
Sustainability Plan Categories
Project Scale
Park
Private Site
Public Building
Download This Tool
Convert Hardscape Areas to Pervious Surfaces Doc (633.04 KB pdf)
Need Help Viewing?
You need a program that can open Adobe PDF files. A free option: