Develop Creative Uses for Vacant Land
Resources for fostering the creative reuse of City owned vacant land.
Description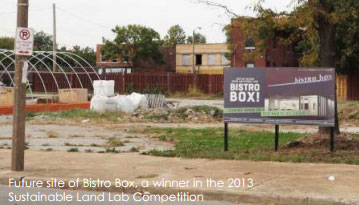 Like many other post-industrial cities, vacant land is abundant in the City of St. Louis and it seeks to foster the creative reuse of City owned vacant land. Neighborhoods can brainstorm creative new uses for vacant property or pull from existing ideas generated by design competitions and projects such as the Sustainable LandLab Competition or the Sustainable Neighborhood Small Grant Competition. Use these resources and other tools at hand to create an exciting new place that contributes to your neighborhood in sustainable ways.
Related Tools
When paired with other tools, utilizing vacant property can contribute to a greater and more holistic, sustainable neighborhood. Think about community cohesion, public art, local prosperity, public safety, and healthy vibrant communities. Try combining your creative idea with:
Community Projects
Add your project
Neighborhood Benefits
Environmental
Cleaner soil, water, and air, which contributes healthy food, a better habitat for urban animals, and improved plant diversity, tree canopy, and more
Social
Reduced crime and increased safety with more occupied & activated lots
Improved sense of place and ownership in the community
Added cultural or recreational amenities
Opportunities for training, research, and learning in various practices for local residents
Economic
Reduced City dollars spent on maintenance and upkeep
Occupied and maintained lots increase surrounding property values Additional jobs, volunteer opportunities, and learning experiences 
Get Started
Research St. Louis is a national leader in the creative use of vacant land. Visit and research the various competitions and projects that have been successful on vacant land in the past. Some existing competitions, projects, and ideas can be found here:

Find a Site Determine what vacant lot in your neighborhood is best suited to a creative reuse and its owner. If it is owned by the St. Louis LRA, follow the steps outlined to acquire the property. Detailed instructions about that process can be found here.
Create a Proposal To acquire vacant property, you must typically have a project proposal and a letter of support from your alderman. Create a proposal for your design idea with drawings, a video, a poster, a website, or some other form of communication to express your ideas. Some examples can be taken from recent projects.
Fund Once you have a vacant lot idea and supporting drawings, there are a number of ways to try to get funding for your project:

Submit it to one of the competitions hosted by the City or another organization, such as the Sustainable Land Lab Competition or the Sustainable Neighborhood Small Grant Competition. You can check the City of St. Louis Sustainability Office, www. stlouis-mo.gov/sustainability, for information about new and ongoing competitions or funding opportunities.
Approach your neighborhood association about how to apply for grant funds or CDBG funding.
Approach non-profits for help in writing grants or other fundraising strategies.
Approach local churches or other community institutions about fund-raising, donations, or sponsorship for your project.

Implement To generate ideas for vacant lots in your neighborhood you can host your own competition, public meeting, or workshop to get input from neighbors, organizations, artists, and other groups. This can be focused around one vacant lot or building or to get input on various lots. Often a workshop or charrette - an intensive brainstorming session - is the best and most fun way to get community members to participate and generate ideas. Look at some common charrette guidelines and work with existing organizations to create a big and exciting event. Invite business owners, residents, youth, school groups, and more.  
Related Categories
Sustainability Plan Categories
Download This Tool
Develop Creative Uses for Vacant Land Doc (687.43 KB pdf)
Need Help Viewing?
You need a program that can open Adobe PDF files. A free option: