Foster Activity with Public Seating, Programs, and Furniture
Resources and information on creating an installation of a chair,a group of chairs, a bench, a surface, or something similar that is designed for the general public to use in daily life.
Description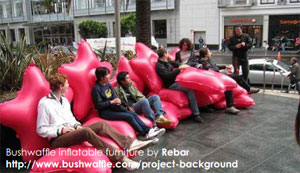 Public seating or street furniture is a do-it-yourself (DIY) installation of a chair, a group of chairs, a bench, a surface, or something similar that is designed for the general public to use in daily life. Seating is designed and placed to create active streets and public spaces, like a bus stop, a sunny corner on a busy street, or another unique place in your neighborhood. Chess tables, lightweight moveable furniture, chalk boards, information kiosks, interactive furniture, and wifi stations are all examples of street furniture that encourages lingering, public activities, interaction with neighbors, and vibrancy.
Related Tools
When paired with other tools, this strategy can make an even greater and more holistic move toward sustainability in your neighborhood. Think about community public spaces, greening your neighborhood, using vacant lots, neighborhood safety, and communicating sustainable ideas or gathering ideas from your neighbors. Try combining street furniture with:
Community Projects
Add your project
Neighborhood Benefits
Environmental
More pleasant, user friendly outdoor environments
Improved everyday public spaces that are underused or run down
Social
Increased access to friendly and fun urban places
More places for communities to interact and socialize
Engaged public discussing sustainability
More active and safer public places
Enhanced functionality of existing places and spaces in your neighborhood
Economic
Increased value of public places 
Get Started
Collaborate Support local artists by collaborating to create an innovative design for your public furniture. Draw inspiration from existing projects, templates, or instructions that already exist, such as:

Design Design your furniture or program to make spaces engaging and fun for all neighbors. Creating places where people can rest comfortably, relax, hang-out, play, and interact with each other adds vibrancy to the neighborhood. Often called third places - a social place other than home or work - these areas are the necessary venues for creating a vibrant social life. Consider enhancing your furniture or program with technologies such as wifi, social media, and more to encourage innovation and usefulness.
Find a Site Choose one or a few locations that might be best for installing seating or furniture. Select places that could benefit from seating or furniture, such as busy streets with wide sidewalks, places where people gather already, or places that could be much better if they had seating or furniture, such as underused parks. Choose public places such as sidewalks, parks, bus stops, or streets. If you want to install public furniture on private property, talk to the land owner to make sure they approve and support your idea for creating public seating, and ensure that they understand it is public and open for anyone to use.
Coordinate If installing in a park or public plaza, ensure that you get permission from the Parks Department. If installing on the sidewalk, contact the Streets Department to see if you need a permit. If creating a larger installation, coordinate with the Building Division.
Fund Funding for street furniture projects can be sought through various organizations supporting neighborhoods, arts, public spaces, community development, and active living. Work with your neighborhood association, Missouri Arts Council, and the Regional Arts Commission. Contact local businesses, churches, or other organizations like Sloup to see if they can help fund your project as well.
Plan Determine if you will need volunteers to help build or install your street furniture or public space amenities. Advertise what kinds of skills, tools, and materials you may need and schedule your workday(s). Host a construction and installation day where your group of volunteers build and/or install the furniture on the site(s). Ensure that you have proper safety equipment, tools, and materials.  
Related Categories
Sustainability Plan Categories
Project Scale
Block
Neighborhood
Park
Street
Download This Tool
Foster Activity with Public Seating, Programs, and Furniture Doc (510.36 KB pdf)
Need Help Viewing?
You need a program that can open Adobe PDF files. A free option: