2013 Small Grant Program Recipients
The Small Grant Competition empowers neighborhood groups to undertake specific sustainability projects best suited to meet their community needs.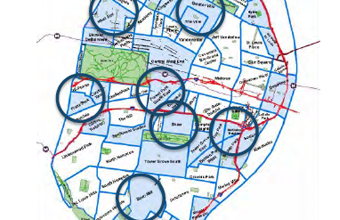 Forty-three groups representing 30 of the City's 79 neighborhoods submitted project proposals.
The projects ranged from neighborhood gardens, to sidewalk and infrastructure improvements, to entrepreneurial programs for youth and at-risk populations.
Seven projects were selected to receive the $5,000 grant.
About the Competition
This competition is just one part in an overall initiative to bring the Sustainability Plan to life through supporting tangible and visible projects that promote sustainability at the neighborhood level. The goal is to learn and share from these projects so neighborhoods across the City can further adopt sustainability ideas and best practices.
The Competition Jury
The 2013 project selection jury included the following representatives.
From the City of St. Louis
Charles Bryson (Mayor's Office), 
Don Roe (Planning and Urban Design Agency), 
Catherine Werner (Sustainability Director).
From the Local Sustainability Funders Group of St. Louis 
Dave Berger (St. Louis-Jefferson Solid Waste Management District), 
Bridget Flood (Incarnate Word Foundation), 
Luis Naranjo (Wells Fargo Advisors), 
John Sweet (W. A. Kerr Foundation).
From the St. Louis City community
Stephen Acree (Regional Housing and Community Development Alliance), 
Tracy Boaz (Missouri Department of Conservation), 
Yvonne Sparks (Federal Reserve Bank of St. Louis), 
Todd Swanstrom (UMSL).