Solar & The City of St. Louis
Solar energy resources, programs and news about City of St. Louis solar initiatives.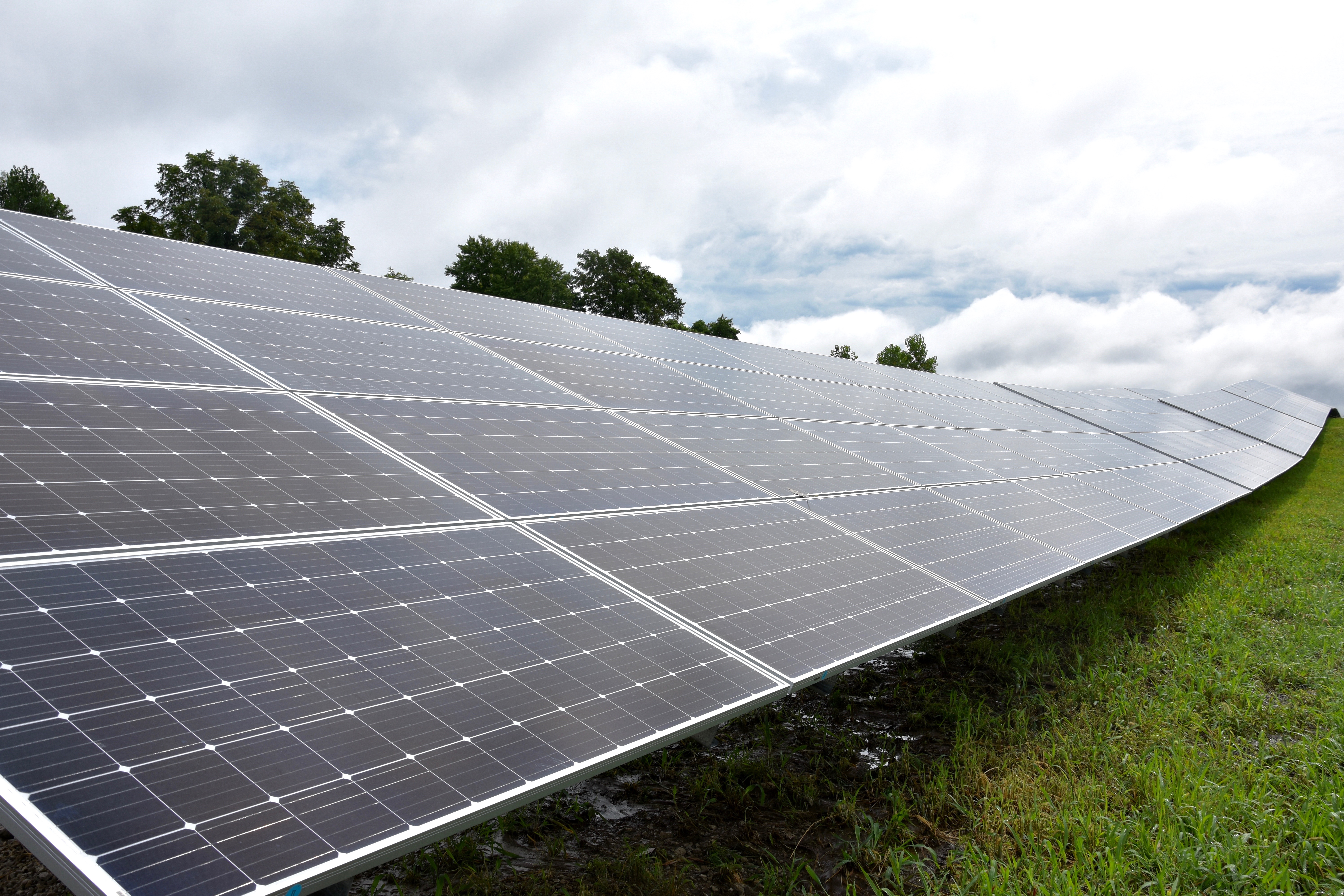 Solar Panels at Lambert Airport
---
---
Solar Energy & The City of St. Louis
---
The City of St. Louis Sustainability Plan and its Climate Action and Adaptation Plan (CAAP) both point to using renewable energy as an important strategy for achieving the City's Climate Protection Initiative goals and advancing sustainability.  Specifically, Greenhouse Gas Mitigation Objective 2 of the CAAP is to Accelerate Clean Renewable Energy from both the source and by utilization. Strategy 2.2 of the CAAP is to Advance Community Scale Renewable Energy Options & Utilization (see pages 41-45 of the CAAP).  According to the National Renewable Energy Laboratory (NREL), Missouri has a moderate, above-average amount of solar resources: over 200 sunny days per year and an annual daily average of 4.5-5.9 kWh/m2/day. At this level, Missouri's solar resources exceed that of Germany, often considered the world leader in solar energy production.
Benefits of Solar Energy
Solar energy offers many environmental, social and economic benefits associated with the City's triple bottom line sustainability goals. Among other things, the use of solar energy can reduce greenhouse gas emissions, create job opportunities, and improve air quality.
Environmental: Solar energy helps lower greenhouse gas emissions
Social: Solar energy contributes to better air quality, health & equity
Economic: Solar energy can be cost-effective and lower electricity costs
Learn more from Solar and the City of St. Louis: Why Install Solar Panels on Your Home or Business
Steps & Resources for Pursuing Solar Energy
1.   Learn About Solar in Missouri: Missouri Solar Energy Industries Association (MOSEIA) is a great clearinghouse of solar information
2.  Assess Your Building's Solar Potential, perhaps with Project Sunroof 
3.   Review Local Policies and Processes for permitting, inspection and zoning for the use of solar in the City of St. Louis: 
3.   Consult a Solar Installer to assess your solar potential:
In 2020, residential properties in the St. Louis Region are eligible to take advantage of Grow Solar STL program discounts. 
In 2020, commercial/non-residential properties in the St. Louis Region are eligible to take advantage of the RenewSTL Solar program discounts.
Certified energy practitioners are listed at the NABCEP website
Informative short video on choosing a solar installer
4.   Explore Options for Paying For Your Solar Installation
5.   Know Your Solar Rights
Solar Energy Materials and Programs
Making New Construction Solar Ready in St. Louis
In December 2019, Mayor Krewson signed a Solar Ready Ordinance for new construction. Several new resources and supporting materials are being developed to explain how the ordinance works, and what buildings are covered by the requirements:
City of St. Louis Solar Ready Ordinance Infographic
City of St. Louis Solar Ready Ordinance Overview Slidedeck and Roadmap (coming soon)
Community Solar Opportunities
For those people who are unable to install solar panels on their property but are interested in supporting the local generation of renewable energy, in 2019 Ameren Missouri launched a Community Solar pilot program at the St. Louis Lambert International Airport. To view a time-lapse video of the solar panel construction, and/or to find more information on how to participate in a Community Solar program, visit Ameren's Community Solar website. 
St. Louis Solar Outreach & Learning
In August 2019, the City of St. Louis partnered with MOSEIA and CORTEX to hold the inaugural STL Solar Expo & Symposium. Details and copies of the Solar Symposium presentations can be found on the tab left, here. Photos from the 2019 event can be seen here.
Solar Job Training & Education Programs 
There are several existing programs offering solar training and education in the St. Louis area. Examples of job training and education programs are those at St. Louis Community College and the St. Louis chapters of the International Brotherhood of Electrical Workers (IBEW), National Electrical Contractors Association (NECA), and Electrical Connection.
The City of St. Louis Office of Sustainability is working with Employment Connection, SLATE, the IBEW and a number of other stakeholders to offer a Solar Workforce Development Pilot Project. Applications are being accepted now to participate in the Solar Workforce Development Pilot cohort.
Miscellaneous Solar Energy Resources