Climate and Air
Air is an invisible but invaluable resource. The City of St. Louis has launched several initiatives to protect air quality and reduce harmful emissions caused by building energy consumption and fossil-fueled vehicles. Emissions reductions bring a number of benefits, such as lower energy costs and better human health.
Climate, Air Quality and Energy Efforts
In October 2018, the City of St. Louis was selected as one of only 20 cities nationwide to participate in the Bloomberg  American Cities Climate Challenge prgram.
The grant work will focus on Buildings and Transportation actions and policies -- such as building performance, solar energy and vehicle electrification --that will have a measurable impact citywide by December 2020.
The City of St. Louis is fully compliant with the comprehensive climate planning and monitoring aspects of the Compact of Mayors. 
In November 2015, former Mayor Slay signed the Compact of Mayors (now the Global Covenant of Mayors for Climate & Energy), and pledged to gather greenhouse gas (GHG) data, set greenhouse gas emissions reduction targets, identify climate hazards, assess climate risks and vulnerabilities, and develop a climate action plan to address mitigation, as well as a climate adaptation plan.
The pledge included a multi-year commitment that was tracked in phases through the award of earned badges.
As of November 2018, the City has earned all of the Compact of Mayors badges.
The City has conducted Greenhouse Gas Emissions Inventories for the years 2005 (baseline), 2010, 2013, and 2015. These GHG Inventory Reports have been shared with the Carbon Disclosure Project since 2012, and posted online. The most recent GHG Inventory was for calendar year 2015. Review and download the 2015 GHG Report.
Over the course of several months in 2016-17, the Mayor's Office of Sustainability worked with a team of consultants, community representatives with technical expertise, and departmental staff involved in climate issues, to develop a Climate Action & Adaptation Plan recommended for the City of St. Louis Sustainability Plan.  
A Climate Vulnerability Assessment was developed in conjunction with the City's Departments of Health and Emergency Response, and the Brown School at Washington University in St. Louis.
Below is an Infographic summarizing the City's Climate Protection Initiative. Details and links to various climate protection documents are included below the infographic.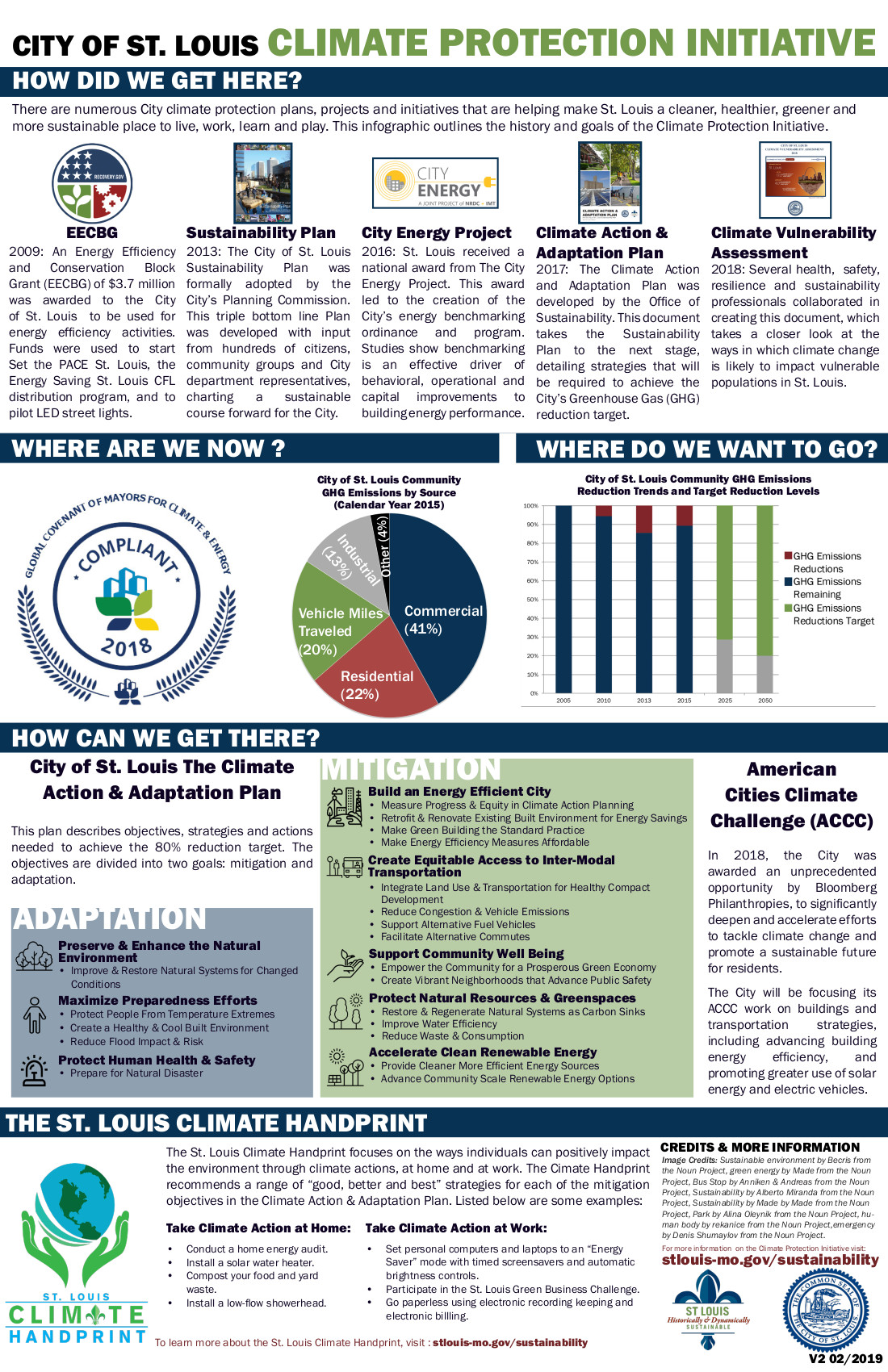 Also in 2016-17, St. Louis became a City Energy Project awardee, with support from the NRDC and IMT. In February 2017, former Mayor Slay signed an Energy Benchmarking Ordinance that applies to buildings greater than 50,000 square feet. Further information about the Energy Benchmarking Ordinance requirements can be found at www.stlbenchmarking.com  Through the City Energy Project, the City is able to have an Energy Technical Advisor in the Building Division.  
The Gateway Chapter of the USGBC is partnering with the City to hold several Energy Benchmarking Training opportunities in 2018.  The City will post the report of its benchmarking efforts by the end of 2018. Through this process, three municipal buildings have been awarded ENERGY STAR status. 
In 2017-18, the City's Building Division led the effort to update several existing Building Code elements to require greater energy efficiency. The updated Building Code provisions went in to effect in August 2018 and are among the most progressive in the midwest.
The St. Louis Climate Handprint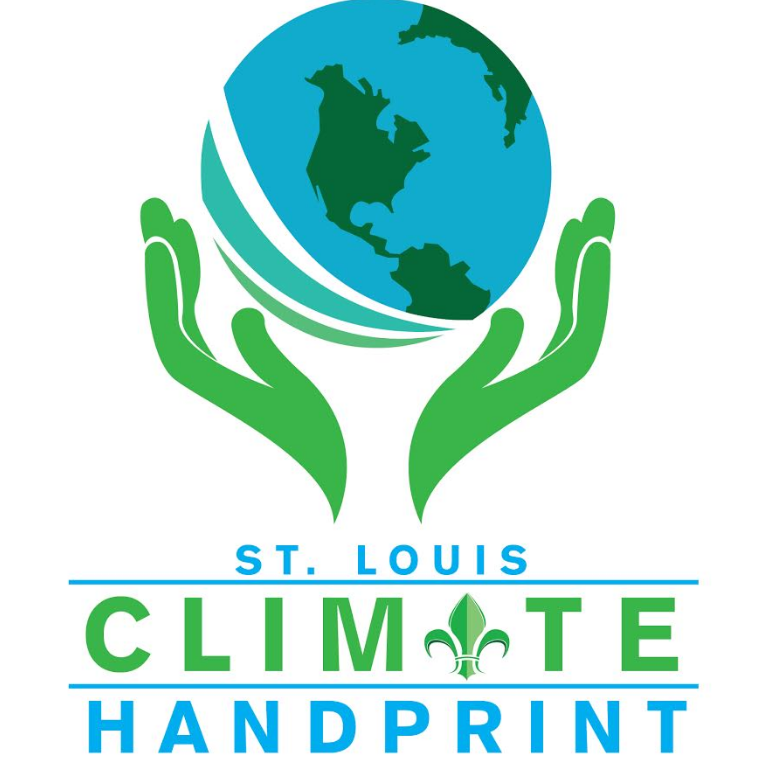 Taking positive action to help the environment in day to day actions and decisions. For suggestions on how to make a difference in addressing the challenge of climate change, check out the Good-Better-Best recommendations for how individuals can take climate action At Home and At Work.
EPA Climate Change Data
The City of St. Louis is one of 16 cities that have joined the City of Chicago in posting research from the U.S. Environmental Protection Agency's (EPA) Climate Change Website after the information was removed from the federal government's websites on April 29, 2017.
To view the archived EPA climate data and resources visit https://climatechange.stlouis-mo.gov/
Energy Efficiency & Conservation Block Grant Efforts
Through ARRA stimulus funding [en.wikipedia.org], the City of St. Louis received $3.7 million in 2009 from the federal Energy Efficiency and Conservation Block Grant Program  (EECBG) to use for a number of  energy efficiency activities between 2010-2013.  With its EECBG funds, the City conducted seven comprehensive energy audits of municipal buildings. Substantial retrofits were conducted at City Hall and Carnahan Courthouse with EECBG funds, too. The City also piloted the use of 3 types of energy efficient street light upgrades to determine which are the most reliable, efficient, and cost effective for future use.
EECBG funds were used to reduce energy consumption of City residents and businesses. In conjunction with Ameren and Americorps, more than 100,000 compact fluorescent light bulbs were distributed to more than 25,000 City households.
The City formed the Clean Energy Development Board and launched Set The PACE St. Louis, an innovative financing technique to promote energy efficient improvements on private properties. This PACE financing has expanded from just commercial to residential properties in the City of St. Louis. There is also a minority and woman contractor inclusion element to the Set The PACE St. Louis program. Visit www.ygrene.com for information on how to get PACE financing on residential properties in the City of St. Louis. 
The City also used some of its EECBG funds to reduce energy consumption in the transportation sector by promoting alternatives to fossil-fueled vehicle use by adding bike racks, bike lanes, and creating the Downtown Bicycle Station -- the region's first public commuter bike station. See below for other cycling information.
Greenhouse Gas Inventory and Climate Action Planning
A Greenhouse Gas (GHG) Emissions Inventory is an assessment of the GHG emissions associated with energy consumption for government operations and community sources, leaked refrigerants, fire suppressants, generation from biogenic processes (landfills, wastewater) and other chemical and biological processes. The gases being measured include Carbon Dioxide (CO2), Methane (CH4), Nitrous Oxide (N2O), Hydrofluorocarbons (HFCs), Perfluorocarbons (PFCs), and Sulfur Hexafluoride (SF6). Conducting a greenhouse gas emissions inventory is important  because one cannot effectively reduce what isn't measured. Data is used to establish a baseline of information, and then to inform the development and tracking of atmospheric models, strategies, and policies for emissions reductions. The GHG emissions inventory is also important because it helps build the context for meaningful sustainability initiatives and identify areas of improvement.
The City is using the year 2005 for its GHG Baseline, because that is the year former Mayor Slay signed the US Conference of Mayors Climate Protection Agreement. The City of St. Louis completed GHG inventories for Baseline year 2005, and reports for 2010, 2013 and 2015. The 2015 Greenhouse Gas Emissions Inventory has been finalized, and serves to update the original GHG information with some new classifications.
View and Download the Final 2015 GHG Emissions Inventory Report
Citywide CFL Light Distribution to Residents
The City of St Louis partnered with Ameren Missouri and Americorps to distribute more than 100,000 Compact Flourescent Light (CFL) Bulbs to more than 25,000 households in the City. These bulbs are 75% more energy efficient and last up to ten times longer. This initiative minimizes energy consumption, helps residents save on their utility bills and helps keep energy emissions out of the environment. The CFL bulbs were packaged with literature explaining the benefits and proper use of CFLs. Thus, the initiative also helped raise awareness about the city's carbon footprint and educated citizens about environmentally-responsible actions they can institute at home.
Between 2002 and 2005, the City also converted 16,000 traffic signals to LED light technology resulting in cost and energy savings.
Alternative Transportation
Anti-Idling Ordinance
In 2008, St. Louis City passed an Anti-Idling Ordinance  that prohibits vehicle idling for longer than five minutes (10 minutes when temperatures dip below freezing). An idling engine emits harmful tailpipe exhaust in a very concentrated area, exposing anyone nearby to air pollutants thought to be a cause of asthma and other health problems. Avoiding idling is likely to reduce emissions and improve health and air quality. Please reference the idling brochure for more information about the benefits of reducing idling and the restrictions on idling in the St. Louis area.
Complete Streets Ordinance
In June 2010, former Mayor Slay signed the Complete Streets bill  into law, encouraging transportation planners and engineers to keep walkers, cyclists and public transit users in mind, not just drivers. In 2015, Mayor Slay signed a more robust Complete Streets ordinance. "Complete streets" are those that are specifically designed to safely accommodate multiple modes of transportation. They have been shown to help reduce reliance on cars, stimulate economy, reduce harmful emissions and promote healthier living.
Cycling Initiative
Through its cycling initiative, the City of St. Louis has embraced alternative means of transportation (such as walking or biking) as healthy and environmentally-friendly ways of getting around. The City has a Bike-Ped Coordinator position, and many details about Bicycling in the City can be found in the Streets Department, which houses the Bike-Ped Coordinator postition and oversees the City's Dockless Bike Share program. 
The City is a regional leader in cycling facilities, and is adding bike lanes and racks in partnership with Great Rivers Greenway District and the Bike St. Louis master plan. In 2017, the City of St. Louis was deemed Silver Level Bicycle Friendly Community by the League of American Bicyclists. Through the efforts of both city government and non-profit organizations, a number of initiatives now promote alternative transportation in the City.
The City partners with local non-profit organizations such as Great Rivers Greenway and Trailnet  to make alternative transportation more viable and prevalent. Together with the City of St. Louis, these groups created a Commuter Bicycle Station in downtown St. Louis. The Downtown Bicycle Station  is a 1,430 square feet, offer secure access and feature more than 100 bike racks, showers, and lockers ideal for cyclists commuting to work. Such collaborative projects helped St. Louis win an All American City award in 2008.
Open Streets
In 2010-11, the City piloted several Open Streets events, whereby normally-busy roads are closed to vehicles and open to runners, walkers, cyclists and roller skaters of all ages. Taking place on weekend days, Open Steets events featured a different route and free stations for activities such as yoga, rock-climbing and children's activities. Open Streets encourages non-vehicular recreation and community interaction.