STL Solar Expo & Symposium
A public event to learn about solar energy

On August 3, 2019, at the Cortex Commons, the City of St. Louis, the Missouri Solar Energy Industries Association (MOSEIA), and CORTEX held a free public event to facilitate the uptake of solar energy in the private sector: the inaugural STL Solar Expo & Symposium.
Click here
to view a collection of
photos from the STL Solar Expo & Symposium 2019 event. 
The primary objective of the STL Solar Expo & Symposium was to assist people who are considering solar installations on residential or small commercial buildings. The outdoor Solar Expo will ran from 9 am to 1 pm. It was set up to be a "one-stop shopping" opportunity to meet with solar industry specialists from all parts of the solar industry.
There were approximately 20 exhibitors, including solar installers, solar distributors, City of St. Louis authorities, solar financing entities, solar group buy programs, and non-profits in the solar industry at the Solar Expo.
There were solar demonstrations, including a drone that is used to measure roofs for solar panel installation and a solar sunflower, viewing tours of the IKEA rooftop solar and the solar array on the roof of 4240 Duncan Ave., and family-friendly solar activities. The companion STL Solar Symposium was held in the @4240 Duncan building from 10 am to 12:30 pm, and the Symposium Agenda is listed below.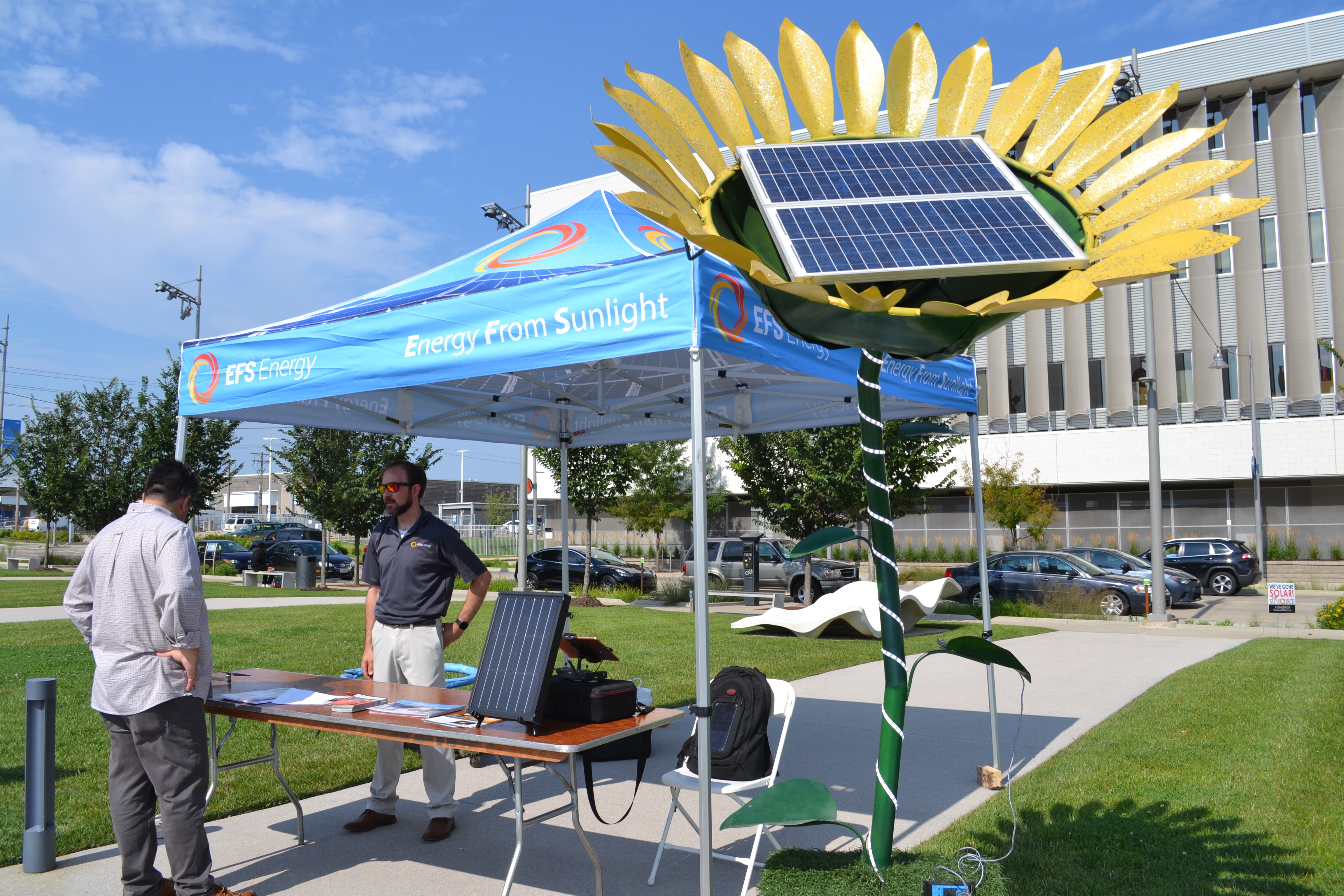 Solar Symposium Agenda
10:00am -
Solar 101: 
What you need to know about solar energy 
Speakers

: Missouri Solar Energy Industries Association (MOSEIA) and StraightUp Solar
Overview of Set the PACE St. Louis Solar Financing
Speaker

: Ygrene Energy Fund
Grow Solar STL is a group purchasing program for residential solar. Offered by the Missouri Botanical Garden and the Midwest Renewable Energy Association (MREA), homeowners throughout the City of St. Louis, Clayton, Maplewood, Richmond Heights, and University City may participate in this pilot program to help pool their buying power to secure significant discounts that make installing solar more affordable. 
Rebates and tax credits for solar panels will also be discussed.
Opportunities to participate in community solar and support solar energy
St. Louis Community College offers North American Board of Certified Energy Practitioners (NABCEP) approved solar training courses from beginner to advanced levels. Learn about the series of solar courses and what it takes to be eligible for the NABCEP Solar PV Associate Exam.
Speaker

: St. Louis Community College
2019 STL Solar Expo Exhibitors
STL Solar Expo & Symposium Event Hosts: