Disconnect Downspouts & install Rain Barrels
Information and resources for disconnecting downspouts and installing rain barrels.
Description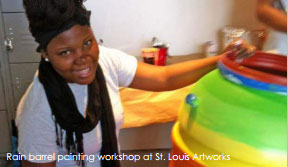 Downspouts connect directly to the combined sewer system, and during rain events, water can overwhelm the sewer system and cause pollution and wastewater overflow. Disconnecting downspouts and redirecting water is a small but effective way to greatly reduce the amount of water flowing into the sewer. Rain barrels are a common, 'low-tech,' and low cost way to capture water that would otherwise need to be drained and would go unused. Rain barrels are placed beneath a gutter or downspout and capture rainwater during storm events. The captured water can then be used for garden irrigation, washing your car, or other non-potable uses
Related Tools
When paired with other tools, disconnecting downspouts and installing rain barrels can contribute to a more connected, prouder, and more marketable community. Think about community cohesion, public art, local prosperity, and healthy vibrant communities. Try combining this tool with:
Community Projects
Add your project
Neighborhood Benefits
Environmental
Reduced pollutant run-off caused by wastewater overflow
Reduced downstream flow to wastewater treatment plants 
Replenished groundwater supply from rainwater
Reduced water demand
Energy savings
Social
Increased awareness of water and energy conservation
Reduced stormwater overflow and chances of flooding
Reduced risk of basement backup and sewer overflow
Economic
Free water for non-potable uses
Reduced lawn and garden upkeep costs because rain water is heathier for plants than tap water
Fewer overflowing sewers reduce risk of incurring EPA fines 
Get Started
Research Contact local organizations that have resource information that you may find helpful. See MSD, the River des Peres Watershed Coalition, and the Mid-America Regional Council. Search for businesses and restaurants that are disposing of food-grade storage barrels that could be re-purposed into rain barrels.
Organize Speak with your neighborhood association leaders and possibly present your ideas at a public meeting.
Buying Complete rain barrel systems cost around $150. Although these organizations DO NOT directly sell rain barrels, funding may also be available through green implementation grants through organizations such as River Des Peres Watersend Coalition, Deer Creek Watershed Alliance, Missouri Botanical Garden, and MSD Project Clear.
Gather Volunteers & Participants Search for homeowners wanting to participate and volunteers willing to assist residents in installation.
Work Hold a workday to disconnect downspouts, install rain barrels, and rain gardens to handle water flow from disconnected downspouts to ensure that rainwater can be absorbed into the ground without causing erosion. Rain barrels may need to have spigots and overflow valves installed and be sealed from mosquitoes and other insects. Be sure barrels are free of contaminants that might pollute rainwater or damage plants.
Use Rainwater Rainwater should never be used as drinking water for pets or people. It can be used to wash cars, water lawns and gardens, and to clean exterior surfaces.
Maintain Disconnected downspouts and rain barrels require yearly maintenance to remove debris. During winter, it may be necessary to disconnect your rain barrel to prevent freezing and damage.
Opportunities
Decorate Have neighborhood volunteers of all ages decorate rain barrels or plant greenery around barrels to handle rainwater overflow and to add a defining character to your neighborhood. To raise community excitement for your program, consider hosting a competition for the most beautiful rain barrel on the block.
Market Share information about these rainwater strategies to your neighbors at Neighborhood Association and other public meetings. Try finding new, creative ways of using water from disconnected downspouts and rain barrels.
Track Progress Track your water savings and share knowledge to encourage neighbors to participate.  
Related Categories
Sustainability Plan Categories
Project Scale
Block
Neighborhood
Private Site
Public Building
Download This Tool
Disconnect Downspouts and Install Rain Barrels Doc (250.61 KB pdf)
Need Help Viewing?
You need a program that can open Adobe PDF files. A free option: