Start or Enhance a Neighborhood Safety Program
Information and resources on starting a neighborhood safety program
Description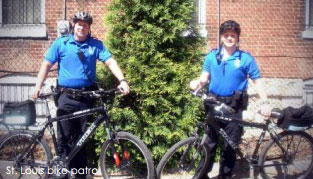 Neighborhood safety programs such as Block Captain Programs, National Night Out, Neighborhood Watch Organizations, and the popular Neighborhood Ownership Model can establish a system for residents to work together with Metro Police and with the Neighborhood Stabilization office to reduce crime and make residents safer. The Neighborhood Ownership Model establishes a way for residents to work with police officers, prosecutors, and judges to reduce crime. These kinds of programs, when well organized, have been shown to have a major positive impact on the safety and security of neighborhoods in St. Louis.
Related Tools
When paired with other tools, creating a neighborhood safety program can contribute to a greater and more sustainable neighborhood. Think about community cohesion and vibrant communities. Try combining these various strategies with:
Community Projects
Add your project
Neighborhood Benefits
Environmental
Reduced crime and crime related activities to help clean up streets and vacant lots and buildings
Increased safety so people are more inclined to walk and bike rather than drive for short trips, which encourages sustainability, healthy lifestyles, and more inexpensive infrastructure
Social
Collaborative community effort for increased safety fosters neighborhood ownership and responsibility
Improved sense of place and personal investment in community 
Improved perception of neighborhood safety and security
Meeting and learning from your neighbors
Economic
Reduced crime for improved property values
Reduced crime for improved chances for neighborhood reinvestment 
Safer and more productive local businesses 
Get Started
Related Categories
Sustainability Plan Categories
Project Scale
Block
Neighborhood
Street
Download This Tool
Start or Enhance a Neighborhood Safety Program Doc (368.63 KB pdf)
Need Help Viewing?
You need a program that can open Adobe PDF files. A free option: