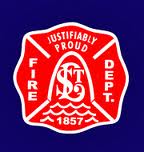 The St. Louis Fire Department is joining the National Fire Protection Association (NFPA) and other safety advocates this fall to remind children and adults about fire safety during Fire Prevention Week.  This year's theme, "Have Two Ways Out!" highlights the importance of fire escape planning and practice.  The St. Louis Fire Department will actually recognize the entire month of October for fire safety and will be active in schools, churches, and the community in general, spreading fire safety messages.
 If you woke up to a fire in your home, how much time do you think you would have to get to safety?  According to the NFPA, one-third of American households who were surveyed thought they would have at least six minutes before a fire in their home would become life threatening.  Unfortunately, the time available is often less.  Fires can spread through a home rapidly.
The St. Louis Fire Department encourages residents to develop and practice a home escape plan and recommends the following tips for planning your family's escape:
Make a map of your home.  Mark a door and a window that can be used to get out of every room.  "Have Two Ways Out!"
Make sure all doors and windows leading outside open easily.
Practice using different ways out in the day and at night.
Choose a meeting place outside in front of your home.  This is where everyone can meet once they've escaped.
Write the emergency telephone number for the fire department on your escape plan.
Keep your escape plan on the refrigerator and practice the plan twice a year or whenever anyone in your home celebrates a birthday.
Practicing the plan ensures that everyone in the home knows the fire escape plan, they're familiar with the sound of the smoke alarm, and they know how to exit quickly.
In addition, the St. Louis Fire Department urges all residents to maintain working smoke alarms.  Smoke alarms are an important part of a home fire escape plan.  Smoke alarms are the most effective early warning device available for the home.
Key Smoke Alarm Installation and Maintenance Tips
Install at least one smoke alarm on every level of the home and outside each sleeping area.
Mount smoke alarms on ceilings or high on the walls, following manufacturer's instructions.
Test smoke alarms once a month, following manufacturer's instructions.
Replace batteries once a year or as soon as the device "chirps," indicating that the battery is low.
Replace all smoke alarms after 10 years, even those that are hard-wired or smoke alarms with "long-life" (10-year) batteries.  Smoke alarms with "long-life" batteries also need to be replaced when the alarm "chirps" or fails to respond to periodic testing.  The batteries in these units cannot be replaced.
Alarms that are hard-wired to the home's electrical system should be installed by a qualified electrician.
Residents of the City of St. Louis in need of a smoke alarm can contact the St. Louis Fire Department, Monday through Friday between 8 a.m. and 5 p.m. at (314) 533-3406 or email KillingsworthW@stlouis-mo.gov for more information.
About the NFPA
NFPA has been the official sponsor of Fire Prevention Week since 1922.  The campaign's purpose is to raise public awareness about the dangers of fire, how to prevent it, and how to be protected from it.  Fire Prevention Week commemorates the Great Chicago Fire of 1871, in which more than 250 people died, 100,000 were left homeless, and more than 17,400 structures were destroyed.  Fire Prevention Week is the longest running public health and safety observance on record, according to the NFPA.
NFPA has been a worldwide leader in providing fire, electrical, building, and life safety to the public since 1896.  The mission of the international nonprofit organization is to reduce the worldwide burden of fire and other hazards on the quality of life by providing and advocating scientifically-based consensus codes and standards, research, training and education.  Visit NFPA's Web site at
www.nfpa.org
.