River Des Peres Corridor Traffic Study
Traffic study for the River Des Peres Corridor.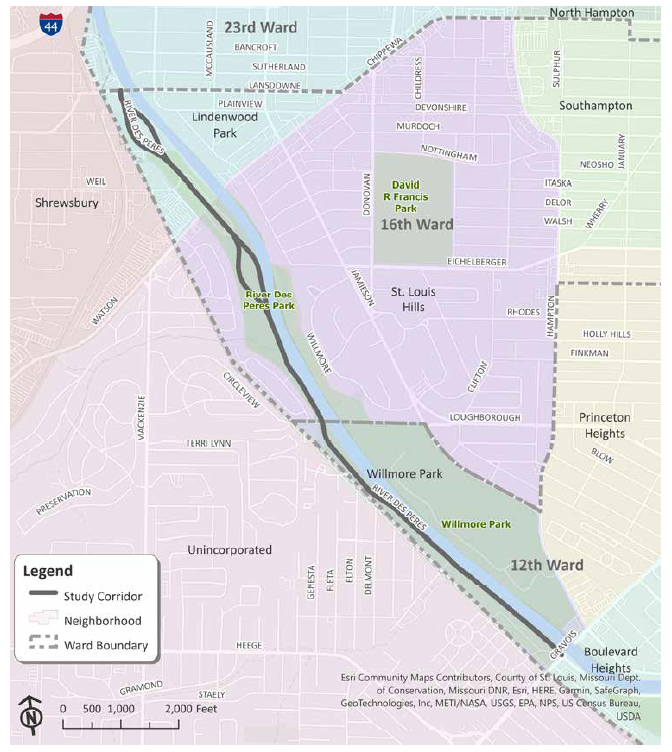 Project Background and Objective
The City of St. Louis Board of Public Service has contracted with Lochmueller Group to evaluate traffic conditions along River Des Peres Blvd between Lansdowne Ave and Gravois Ave and recommend strategies to slow motor vehicle traffic, reduce crashes, and create a safer and more welcoming environment for all roadway users, including people walking and bicycling on the adjacent River Des Peres Greenway.
Public Meeting
February 27, 2023
6:30 PM to 8:00 PM
Bishop DuBourg High School
5850 Eichelberger Street
St. Louis, MO 63109
Project Submittals
River des Peres Traffic Study Final May 2023
Public Review Period–Through March 31, 2023
The public review period is now over.
Project Schedule
Traffic Study: Notice to Proceed December 2021
Public Meeting: February 27, 2023
Comment Period: Through March 2023
Study Results Published: January 2023
Design and Construction: TBD
Contact
City of St. Louis Board of Public Service
City Hall Room 301
1200 Market Street
St. Louis, MO 63103
314.622.3535