Visiting Our Center
Everything you need to know about visiting our center
First Time Visitors
On your first visit, you will meet our Welcome Team and register with the Missouri Career Centers' network. By bringing what you need on your first visit, you'll be able to register and access our services more quickly. On your fist visit, please bring a document showing your date of birth (only ONE of the documents below is required): 
Driver's License or State ID 
Birth Certificate, Baptismal Certificate or Hospital Record of Birth 
U.S. Passport
Also, bring an updated resume, if you have one. If possible, bring a copy of your resume saved as a Microsoft Word document on a Flash drive.
Returning Visitors
On your next visit take advantage of our workshops and learn about Job Fairs and employment opportunities available in the St. Louis area. Check out the following resources:
Locations
SLATE Main Office:
1520 Market St., 3rd Floor, St. Louis, MO 63103, TEL: (314) 589-8000, info@stlworks.com 
Ballpark Village:
601 Clark Ave, St. Louis, MO 63102, Marla Roach, at mroach@stlworks.com 
Clinton Peabody:
1401 LaSalle Lane, 2 Floor, St. Louis, MO 63104,  TEL: (314) 588-7854 
Hours of Operation 
Monday, Tuesday, Thursday, Friday: 8 am - 5 pm, Wednesdays: 7 am - 7 pm. 
Directions &Map 
From Hwy. 44 —Take the Lafayette exit and turn right onto Lafayette. Get into the left turning lane at the next light and turn onto Truman Parkway (18th Street). Turn right on Market and go past the Post Office one block. The Center is in the Abrahms Building, between 16th and 14th Streets. 
From Hwy. 40 —Take the 11th Street exit and go straight. Make a left turn onto Market Street. The Center is in the Abrahms Building, between 16th and 14th Streets. 
From Hwy. 70 —Take the 10th Street exit and go straight. Turn right on Pine, then right on 11th.  
Parking 
Meter parking is available along the Market Street. 
We recommend visitors to park at Kiel Center Garage, situated immediately behind our building, at the corner of Clark &16th. Hours of Operation: Mon-Fri, 6 a.m. –6 p.m. Fees: $1.5 / 1 hour, $10 / daytime, $5 / early bird. 
What to Expect
When you come to our Career Center you will go through the following process: 
Verify and update your information in our system 
Find out who we are and what services we offer 
Take assessment and prove your job and education readiness 
Meet your Employment and Training Advisor and develop your career plan 
Why Visiting Us?
Our expert staff will allow your job search move more quickly. In addition, you will gain access to career-readiness workshops and one-on-one career counceling. Every Wednesday, we host on-site employers from various industries. Be sure to dress professionally, as they frequently offer same-day interview opportunities. A positive attitude is all you need to join in the movement. 
Customer Dress Code 
At our Center, we focus on giving you the tools to attain new or better employment, therefore we require that all participants using our Centers dress in business casual attire. There are employers in our Centers every day to meet and possibly interview potential future employees. For this reason, we want you to be dressed appropriately. You wouldn't get a second chance to make a good first impression. Examples of What to Wear and What Not to Wear
Guidance for Visitors with Children  
Our Center is a place of business where people search for jobs to support their families and maintain their homes. Employers often visit our Center to interview prospective employees. We frequently conduct various training classes and workshops held in nearby rooms. Therefore it is very important that we maintain a calm, professional atmosphere. People looking for jobs have the right to do so without being interrupted by children. If you bring children with you when you visit Career Center, you are responsible for supervising them and making sure they are well-behaved and quiet so they do not disturb other customers or staff. Would I have to leave if I bring a child to SLATE Job Center?
---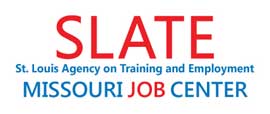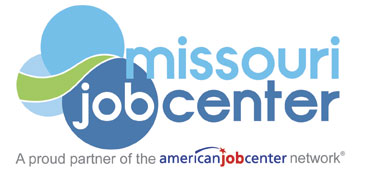 Disclaimer: St. Louis Agency on Training and Employment is an Equal Opportunity Employer and Service Provider. Auxiliary aids and services are available upon request to individuals with disabilities. If you need this information interpreted to a language you understand or in a different format, please contact Cassandra Williams, Interim Equal Opportunity Officer, at 314-657-3599 or cwilliams@stlworks.com. Callers who are deaf or hearing or speech-impaired may reach us at Missouri Relay Number 711.  
For Equal Opportunity questions or to file a complaint, please write a letter to the attention of SLATE Career Center's Equal Opportunity Officer describing the allegations. (James Sahaida, 1520 Market St., Room 3050, St. Louis, MO 63103.)