This article is 8 years old. It was published on April 29, 2015.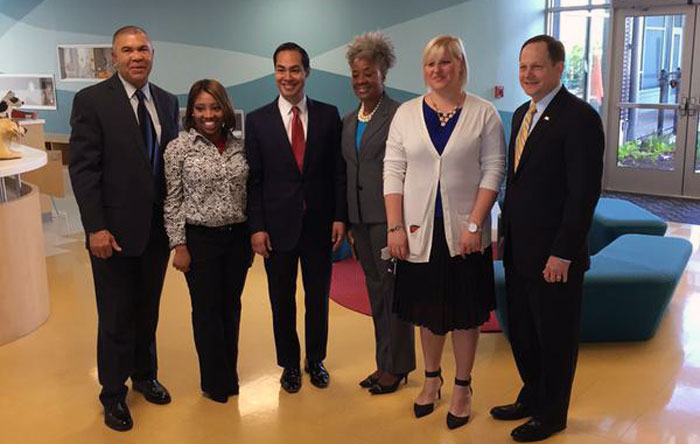 Mayor Francis G. Slay announced today that the City of St. Louis' collaboration with local, state, and federal partners has resulted in the approval of a request for funding for the St. Louis Career Pathways Bridge Demonstration Grant from the U.S. Department of Labor (DOL).
The grant in the amount of $5,014,854 will help provide skills-training and employment to thousands of young people in low-income and minority communities in North St. Louis City and County. Within the first year, the Career Pathways Bridge initiative has set a goal to connect 3,000 people in the area with employment, as well as engage 1,000 participants annually in skills training and 2,400 participants annually in work-readiness training.
"The awarding of this grant is a major step for the city and the region," Mayor Slay said. 
"We worked collaboratively with St. Louis area partners, the State of Missouri, and the Department of Labor to develop this grant in response to the events in Ferguson. This grant has been a high priority for my administration, and I thank Gov. Jay Nixon, Congressman William "Lacy" Clay, Senator Claire McCaskill's office and all of our partners for their efforts in obtaining this grant."
"By connecting thousands of low-income residents with employment and training opportunities, this initiative has the potential to make a real and lasting difference for families and businesses in this region," Gov. Jay Nixon said. "My administration and its partners will continue to work to ensure that North St. Louis and the entire region have more resources, more opportunities and more jobs, so that this community can continue to move forward in a positive direction."
The DOL Grant funds will go to the State of Missouri and flow to the St. Louis area to a number of core community organizations, including the St. Louis County Division of Workforce Development, the St. Louis Agency on Training and Employment (SLATE), the Metropolitan Education and Training (MET) Center-St. Louis, and the Governor's newly-formed Office of Community Engagement, which will play an integral role in facilitating collaboration, partnerships and community outreach to ensure the project's success.
"Through this intensive initiative, we will build constructive and cooperative action addressing income inequality in these historically impoverished areas to ensure that every Missourian has an opportunity for a better life-- one where they can provide for themselves and their families," said Maida Coleman, Executive Director of the Office of Community Engagement. "A new sense of hope will be instilled in these communities as the potential of the people is revealed and celebrated."
According to Gov. Nixon's office, over the year St. Louis has gained more than 20,000 jobs in the metropolitan area, with particular growth in the IT and financial services sectors. Occupations in the areas of Science, Technology, Engineering and Mathematics (STEM) are some of the most in-demand, fastest-growing and highest-paying jobs in Missouri.
Funding from the DOL Demonstration Grant will be used to establish five satellite American Job Centers (AJCs) in North St. Louis and North County areas to better reach and provide employment services to disconnected and unemployed youth and young adults between the ages of 16 and 29. 
Young adults in the City of St. Louis interested in obtaining employment services are encouraged to contact the SLATE Office, 1520 Market Street, (314) 657-3500, or visit
www.stlworks.com
.   
Department:


Office of the Mayor
St. Louis Agency on Training and Employment