This article is 7 years old. It was published on May 7, 2015.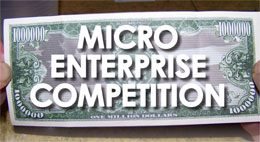 The St. Louis Agency on Training and Employment (SLATE) American Job Center announces the return of a popular program for small business owners, the Micro Enterprise Competition. The competition is designed to encourage emerging entrepreneurs, provide them with business training and support, and help realize their dreams and goals. Program participants compete with their business plans to receive a chance to win $1,000.
The $1,000 award can be used to cover pressing business needs, advertise, refine a business concept or gain access to critical tools which can help a venture's stability and growth. The Micro Enterprise Competitionis a valuable opportunity for entrepreneurs to both receive concrete advice and earn publicity.
Interested participants must:
E-mail their resume by Monday, May 11, 2015 to specialprojects@stlworks.com
Register with SLATE at http://www.Jobs.Mo.Gov. Assistance with registration can be provided at SLATE, 1520 Market Street, 3rd Floor, St. Louis, MO 63103. Hours of operation are Monday through Friday, from 8:00 a.m. to 5:00 p.m., with the exception of opening at 9:00 a.m. on Wednesdays. Recommended parking is at Kiel Center Garage, situated immediately behind our building, at the corner of Clark and 16th.
After creating an account, participants must conduct an interview with SLATE's Small Business Advisor, who will determine eligibility and provide specific next steps.
The program is facilitated by experienced business development experts from the St. Louis Development Corporation (SLDC) and Small Business Empowerment Centers (SBEC). There is absolutely no charge for disadvantaged and low-skilled adults, including those with previous felony records.
The Micro Enterprise Competition is part of a complete set of no-cost services for entrepreneurs offered at SLATE, made possible through the Entrepreneurs' Business Legal Assistance Program (EBLAP) - a partnership between SLATE, the St. Louis Development Corporation (SLDC), Small Business Empowerment Centers (SBEC) and Legal Services of Eastern Missouri (LSEM). The program primarily serves dislocated or laid off workers from the City of St. Louis and St. Louis County.
Watch for a complete EBLAP Calendar of Workshops to be posted soon on SLATE's website at www.stlworks.com. For more information and to register, please contact Cassandra Williams, at (314) 657-3599, or register online at http://missouribusiness.net/
Department:


St. Louis Agency on Training and Employment