This article is 9 years old. It was published on June 5, 2013.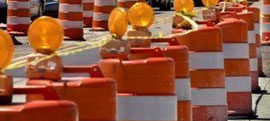 The new Wellington Avenue Bridge over River Des Peres will be open for traffic on Thursday, June 6, 2013 prior to the evening rush hour. Approximately 15,500 vehicles travel the Wellington Avenue Bridge, which is accessed by Wabash from the south and by Ellendale/McCausland from the north. 
The bridge was closed to traffic on April 30, 2012 for reconstruction. The project was scheduled to take fourteen months.
A public/private partnership allowed the City to pay approximately $500,000 of the $5.2 million construction cost for the bridge. Great Rivers Greenway paid almost an additional $500,000, with the rest of the cost funded through a federal grant. The General Contractor for the construction of this project is Fred Weber, Inc. The Design Engineers for this project were HDR, Inc. 
The construction work consisted of complete removal and replacement of the existing bridge to create a new, safe structure that also eliminated the sharp turn at the northwest end of the bridge. 
There will be some utility installation work at the approaches to the bridge that will require lane closures for the next few weeks, but the bridge will remain open to traffic. Laclede Gas Company and the City of St. Louis Water Division have mains suspended from this bridge.
Department:


Street Division