Hand Signals for Bicyclists
National Highway Traffic Safety Administration (NHTSA) document showing examples of hand signals designed for bicyclists.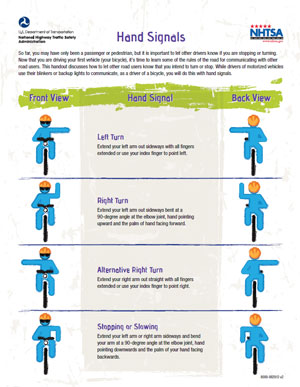 Publication Date: 11/01/2016
Document Type: Informational Pages
Sponsor: Traffic and Lighting Division
Summary
The NHTSA encourages bicycling as an alternative form of transportation. In order to safely navigate roadways with other traffic, it is important to understand and use the designated hand signals for bicyclists. This infographic shows examples of these hand signals.
Download
NTSA Hand Signals for Bicyclists Document (2.15 MB)
Need Help Viewing?
You need a program that can open Adobe PDF files. A free option: