About Bike St. Louis
In partnership with Great Rivers Greenway, the City of St. Louis has been making our streets more bike-friendly by installing markings and signage to create the Bike St. Louis network.
About Bicycling in St. Louis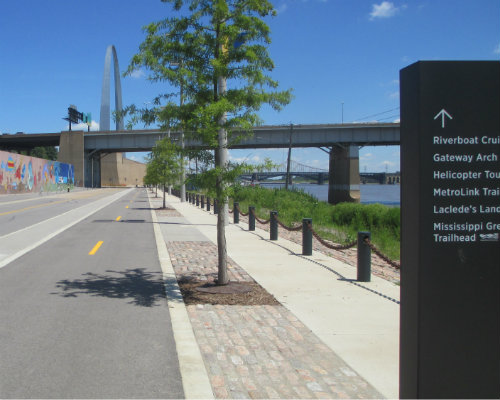 Since the year 2000, the City of St. Louis has made bicycling a part of the overall plan for the City of St. Louis. Since then, projects like Bike St. Louis and the greenways from Great Rivers Greenway (GRG) have brought over 135 miles of bicycling routes to City streets.
A combination of federal transportation grants, extensive public engagement and engineered designs continue to make our community more friendly for those who bicycle for transportation, fitness, or even just for fun. 
Discuss Policy and Future Plans
1 comment from someone like you has helped us improve this page. Keep the feedback coming!