This article is 6 years old. It was published on August 9, 2016.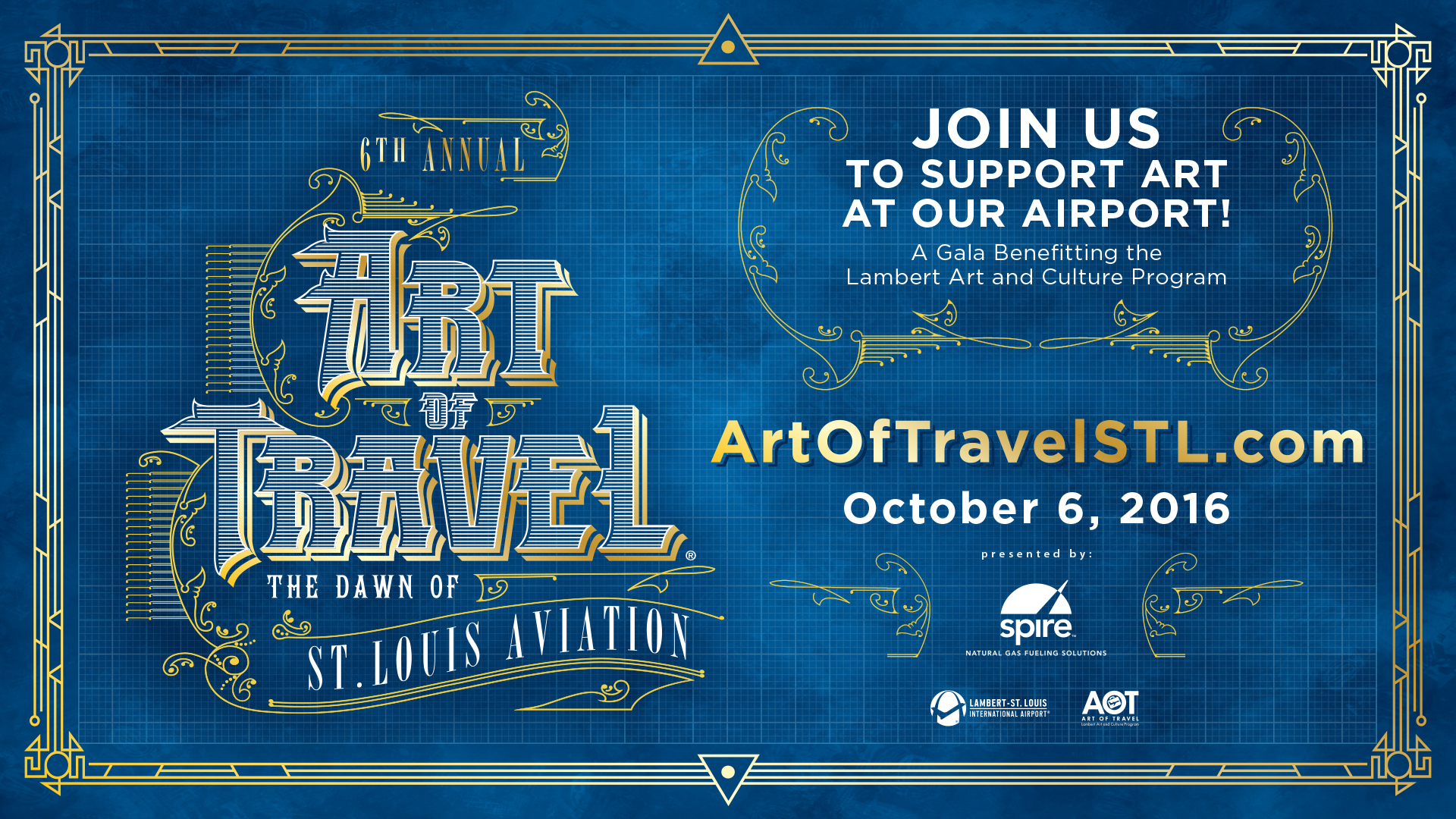 ST. LOUIS - Tickets are now on sale for the Art of Travel gala, Lambert-St. Louis International Airport's signature event of the year. Proceeds from the event benefit the Lambert Art and Culture Program, which through community support, enhances the visual appearance and cultural connectivity of the airport through art and exhibitions in the terminals and concourses.
Now in its 6th year, Art of Travel celebrates The Dawn of St. Louis Aviation in 1920's style on Thursday, October 6, 2016 from 6:00 p.m. – 9:00 p.m. in Lambert's Concourse B event space in Terminal 1. Tickets are $75 in advance and $100 at the door. Dining, drinks, parking and entertainment are included. All proceeds benefit the Lambert Art and Culture Program.
To purchase Art of Travel tickets and for more information, please visit www.ArtOfTravelSTL.com
The Lambert Art and Culture program features both visual and performing arts, and highlights the unique art and culture in the St. Louis region, as well as works from national and international scenes. Funds raised at previous Art of Travel events has enabled Lambert Airport to showcase works from renowned artists such as: Alicia LaChance, Ken Konchel, Daniel Raedeke, John Foster, Steven Ladd and William Ladd. Many more artists have been featured in curated exhibitions by local organizations such as Craft Alliance, The Sheldon Art Galleries, The Missouri History Museum, The International Photography Hall of Fame, Griot Museum, Foundry Art Centre and the World Chess Hall of Fame.
"The public is invited to attend in support of our art, which impacts an average of 35,000 passengers per day here at Lambert," said Airport Director Rhonda Hamm-Niebruegge. "The cause is important for our region, and we are proud to present a really extraordinary evening."
A highlight of the event is the Copper Collection jewelry, an Art of Travel exclusive. Crafted from salvaged pieces of Lambert's historic and iconic original copper roof, these legacy jewelry and accessory pieces for both men and women are returning by popular demand.Art of Travelwill debut the collection for sale, and it is expected to sell out at the event. The 2016 Copper Collection features works from renowned local metalsmiths Jennifer Walker, Peg Fetter, Roger Rimel and Leia Zumbro. The collection contains more than 80 hand-crafted pieces, with prices starting at $75.
Art of Travel puts the spotlight on culinary arts with an exquisite chef table dining experience. Top chefs will assemble from around the country courtesy of HMS Host, Lambert's master food and beverage concessionaire and a world leader in travel dining. The expert culinarians will craft seven inspired chef tables featuring favorite 1920s foods, transformed into sweet and savory delectable gourmet reincarnations.
Guests can enjoy a signature cocktail or choose their own pour from one of four bars, which includes the Budweiser Lounge. Art and travel experience packages will be showcased in the silent auction and raffle. The Galaxy Band featuring Kim Fuller will be entertaining throughout the evening.
Department:


St. Louis Lambert International Airport