This article is 8 years old. It was published on January 31, 2014.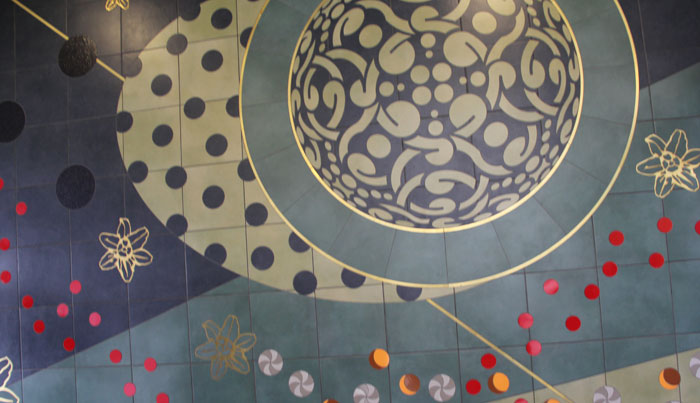 Two new public murals created by artist Amy Cheng now welcome passengers at Lambert-St. Louis International Airport as they arrive and depart from the Terminal 1 MetroLink Station. The murals were commissioned by MetroTransit as part of a commitment to upgrade its light rail stations on its original section of the light rail alignment.  
Two St. Louis installers, Kevin Carraway and Chris Rushing, set thousands of waterjet-cut tiles for the project. Cheng titled the artworks "Nucleic Life Formation." The murals, one of which is 22-ft long, are located alongside and at the top of the escalator that carries passengers to and from the Terminal 1 MetroLink platform in Terminal 1.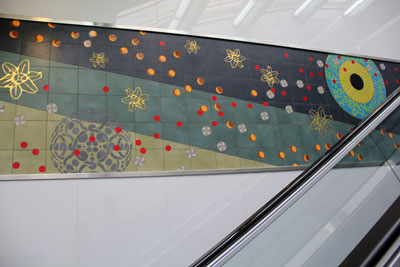 "Nucleic Life Formation" suggests a striated nightscape crossed by a constellation that loosely mimics a DNA double helix," said Cheng. "It suggests a universal connection between us and the cosmos. It is my hope that viewers find the murals visually delightful. They were designed with a sense of play and a feeling of lightness."
Bi-State Development Agency/Metro President and CEO John Nations and Airport Director Rhonda Hamm-Niebrugge, and Metro Arts in Transit Director David Allen participated in the dedication event on January 31. 
"We are ecstatic to have such an inspiring piece of art grace our Terminal," said Lambert Director Rhonda Hamm-Niebruegge. "The murals offer a new attraction, along with other recent installations. They demonstrate that we have a great showcase of national and local art and culture within the Airport."   
The project was made possible by $50,000 in funds from the American Recovery and Reinvestment Act (ARRA) awarded by the Federal Transit Administration (FTA). 
"These murals are the fifth of 10 Metro Arts in Transit projects scheduled to be created and installed at Metro transit locations over the next two years," said Allen. "I would like to extend a special thanks to everyone for their dedication in making this project a success." 
Cheng who lives in New York State has exhibited her paintings both nationally and internationally and her work is held in a number of corporate and public collections. She has completed a number of public art commissions including a mosaic column at the Seattle-Tacoma International Airport, a painted ceramic mural at the Howard St. El Station in Chicago, IL, seven faceted glass windscreens at the Cleveland Street Subway Station in Brooklyn, New York, and four laminated glass windscreens for the 25th Avenue Subway Station in Brooklyn, NY. She was been awarded two New York Foundation for the Arts Painting Fellowships, and an Arts International travel grant to China. She is a professor in the Art Department at the State University of New York at New Paltz.