Behavioral Health Bureau
A collaboration between the Department of Health, the CDC Foundation and community partners to better the city's mental health.
Overview
The City of St. Louis Department of Health has prioritized behavioral health as part of our comprehensive public health approach. We know that the prevalence of mental and substance use disorders in our community is above the national and state averages and has risen consistently over the past few years. Age, race, and social-economic disparities are evident in available data about mental health and substance use disorders. Promoting behavioral health awareness, effective preventive measures, early detection, and treatment can improve physical and community health. 
Our goal is to ensure culturally appropriate and effective interventions and efforts are in place to help our community reach a state of well-being in which every individual realizes their potential, can cope with the normal stresses of life, can work productively and fruitfully, and can contribute to their community.
Strategy
Our strategies as we begin this work are as follows: 
Identify all our community partners and create a space for engagement, collaboration, and support.
Develop new ways to share data and materials to address the behavioral health issues
St. Louis people often face.
In partnership with schools, develop a joint plan for advancing behavioral health initiatives for our youth. 
Through collaboration and building on our community partners' work, the DOH will begin furthering efforts to address substance use and misuse in the City of St. Louis through strategic planning, prevention strategies, and coordinated treatment and recovery efforts.
Through these steps, the Department of Health is working to disrupt the factors that contribute to behavioral health crisis to help guide an individual and a community in whole toward a shift in overall mental health.
Cultural and Behavioral Change
Societies shift to promote well-being.
Scientific and Technological Process
Breakthroughs will happen at an exponential pace.
Scaled Data Sharing
Strong participation in data sharing across health systems.
Interoperable Data
Data architecture and analysis is transformed.
Increased Access
Access is made available to everyone.
Empowered Consumers
Consumers demand seamless control to improve their lives.
Source: Deloitte analysis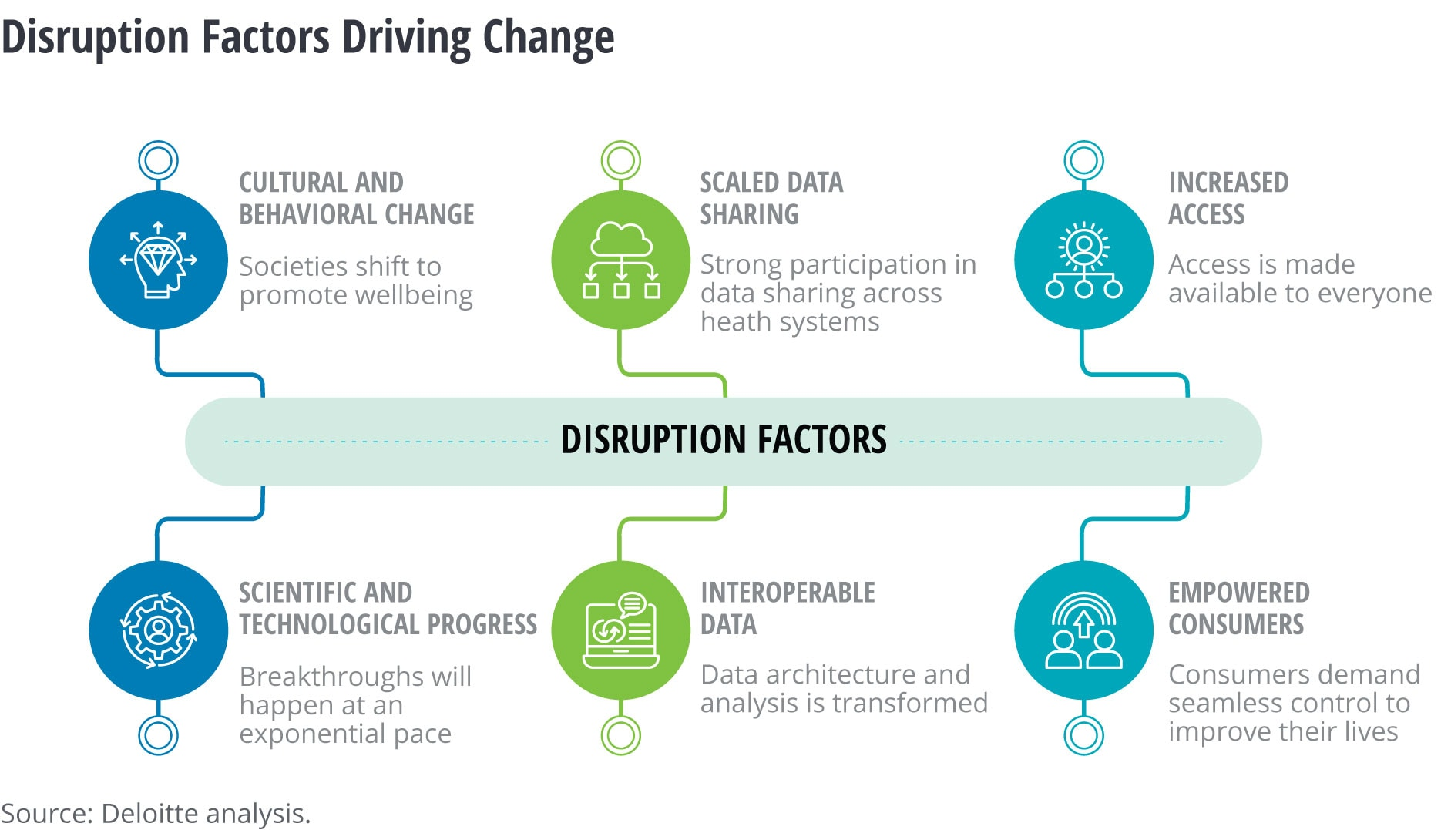 Overdose Response
Overdose response efforts in the City of St. Louis include coordination of service agencies within the City of St. Louis and surrounding areas, data analysis to determine Zip codes with the highest need for intervention, and creation of a substance misuse task force. 
Expanding Capacity to Address the Drug Overdose Epidemic (award #6 NU38OT000288-04-01), a cooperative agreement between CDC and CDC Foundation, provides a team of public health professionals to support overdose surveillance and prevention efforts in the City of St. Louis.
Goals for Overdose Response
Reduce deaths from opioids through prevention, treatment, and harm reduction.
Use data to describe the problem, target interventions, and evaluate effectiveness. 
Objectives
Deliver a comprehensive map of services related to the prevention of substance use and misuse and promotion of treatment in the city of St. Louis with identified gaps by December 2022.
Develop and implement a dashboard for the City of St. Louis that highlights key metrics for substance use and opioid/overdose by January 2023.
Develop a strategic and implementation plan to address the opioid/overdose epidemic and substance misuse in the city of St. Louis that outlines the role of the City of St. Louis Dept. of Health by April 2023.
Develop a health equity roadmap related to substance use and opioid overdose for the City of St. Louis by April 2023.
Activities
Phase I - Community Engagement
Phase II - Coalition Building
Phase III - Action Planning
Core Focus
Education & Awareness: Increase awareness among providers and the public through education initiatives such as webinars, townhalls, and community outreach 
Drug Storage, Disposal, & Monitoring: Promote safe handling, storage, and disposal of prescription drugs 
Treatment: Expand access to treatment for those with opioid and substance use disorders and at risk of overdose 
Data & Monitoring: Integrate, analyze, and utilize data from hospitals, public safety, mental health, public health, and other county agencies to describe and understand the risk factors for opioid and substance misuse; target and coordinate interventions; and evaluate their effectiveness.
Behavioral Health Bureau Menu
Contact Information
Address:
1520 Market Street , Room 4051
St. Louis, Missouri 63103

Get directions to this address