Matifadza Hlatshwayo Davis
Director of Health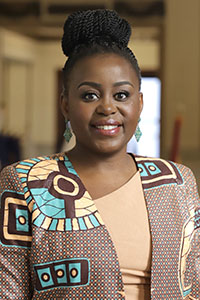 Dr. Matifadza (Mati) Hlatshwayo Davis, MD, MPH, FIDSA, was appointed Director of Health for the City of St. Louis in October 2021. She is an internationally renowned infectious diseases physician, public health expert and medical contributor. 
She received her medical degree from the Cleveland Clinic Lerner College of Medicine and a Master's in Public Health from Case Western Reserve University. She then completed her internal medicine residency at University Hospitals Case Medical Center. Dr. Hlatshwayo Davis went on to complete her Infectious Diseases fellowship at the Washington University School of Medicine, also completing a one-year dedicated non-ACGME HIV fellowship and a two-year dedicated Sexually Transmitted Infection fellowship. In September 2023, she achieved the title of Fellow of the Infectious Disease Society of America (FIDSA). This designation recognizes individuals who have achieved professional excellence and provided significant service to the profession of infectious diseases.
As the Director of Health, Dr. Hlatshwayo Davis has established the Department of Health's first Behavioral Health Bureau, part of her commitment to support efforts addressing the city's behavioral health needs and highlighting health inequities in substance use service for residents. Her department will also open another section in 2024 to audit and provide oversight for medical services for the City's Justice Center. She also led the City through its largest surge of COVID-19 while rolling out a comprehensive pediatric COVID-19 vaccination program. President Joseph Biden recognized those vaccination efforts in 2022. 
During her tenure, she has established the department's monthly and annual Impact Report to provide accountability, increase health literacy, and uplift the incredible work of Department of Health staff. She also implemented infrastructure, hired critical staff, and rebuilt the Fiscal bureau with an innovative first-ever partnership using an accounting firm. Dr. Hlatshwayo Davis has also hired over 87 new staff members in her first two years (a City record for a department this size). 
Under her leadership, the department hosted the former Director of the Centers for Disease Control and Prevention, Dr. Rochelle Walensky, during a visit to St. Louis in March 2022. It was the CDC Director's first stop to any local public health agency in the United States. During that visit, Dr. Hlatshwayo Davis established a partnership with the CDC that resulted in housing CDC Foundation staff to assist with the regional response to the opioid crisis and behavioral health, a key component to opening the inaugural Behavioral Health Bureau. 
Dr. Hlathwayo Davis previously served as a Clinical Instructor, Associate Program Director of the Division of Infectious Diseases fellowship program, and in the Office of Inclusion and Diversity leadership at the Washington University of St. Louis School of Medicine. She was also an Infectious Diseases physician at the John Cochran VA Medical Center, where she was the Lead HIV Clinician, Graduate Medical Education Coordinator, and Outpatient Parenteral Antibiotic Therapy supervisor. 
Her passion for community engagement, health equity, and patients living with HIV (PLWH) culminated in her becoming a founding co-chair of the Fast Track Cities St. Louis initiative and her appointment to the City of St. Louis Joint Board of Health and Hospitals before becoming the department's Director. 
Dr. Hlatshwayo Davis is a 2022 recipient of the IDSA Society Citation Award, a recognition of exemplary contribution to IDSA, an outstanding discovery in the field of infectious diseases. She also received a Distinguished Alumni Award for Impact in the Community and Nationally from Drury University in 2021. These are two of more than 20 awards received in recent years.  
As a national and international medical contributor, she has made more than 80 appearances on media outlets to discuss COVID-19 with a particular focus on marginalized populations. Engagement outlets include CBS, CNN, BBC, Al Jazeera, MSNBC, Newsweek, NPR, and Yahoo Finance. 
She has also been invited to speak at more than 90 lectures, conferences, and organizations in recent years. These have included a back-to-back Grand Rounds speaking engagement at the Mayo Clinic in Rochester, Minnesota; the keynote speaker for the 2022 Masters and Johnson lecture at Washington University of St. Louis; and a featured speaker at the 2023 National Medical Association Annual Convention & Scientific Assembly. 
Dr. Hlathwayo Davis serves on the IDSA Board of Directors, is an Associate Editor for Disparities and Competent Care for IDSA, and is the Executive Producer and Co-host for IDSA's "Let's Talk" podcast. She also serves on the national external advisory committee for the upcoming Washington University of St. Louis School of Public Health, amongst five other regional and national boards. 
Contact Information
Address:
1520 Market, Room 4051
St. Louis, Missouri 63103