External Links
How to register external links on the site
Prerequisites
Overview
External links are links to pages that are not on stlouis-mo.gov. Registering these external links allows them to show up on the Browse By Topic and Audience pages, in Related Links, and in the left navigation.

Should This Be an External Page?
Not every link going outside the site needs to be registered as an external page.

A Link Should be Registered If Any of the Following are True:
Register the External Page
The process is very similar to creating a new page.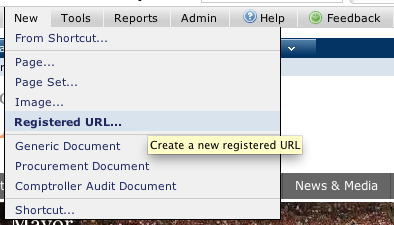 Go to New in the gray toolbar
Click on Register URL.

Pick the location that you want the reference to the external page to live in and click Next.
URL: The page's full URL (including 'http://')
Title: The title for your external page. What's it called?
Description: A short and sweet description of the external page.
Category: This is always "Informational Page" so you don't need to change it.
Keywords: A few things you think someone might put in a search box when looking for this page.
Publication date: When you want this to be available for the public to see.
Availability: All of these should be checked.
Expiration: When you want this to be removed from the public's view.
Freshness Reminder: If you want a reminder to update this external page in the future, set it up here.
Click Next.
Fill Out Global Metadata
Department: Whichever department is putting up this link.
Topic: If there is a specific topic that fits the content you are linking to, check it here.
Audience: Does the content you are linking to cater to one of these audiences?
Neighborhood: Does the content apply to a specific neighborhood?
Ward: Does the content apply to a specific ward?
Content Type: This should be set to "External Link."
Next click on the "External Link" tab.
External Link Metadata
Choose what kind of resource this is (Local, State, or National)
Choose what kind of organization this is

in-site: City government organization.
other governmental source: A government organization outside of City government.
non-governmental source: Something not related to government.
Optional: Show Link in Left Navigation

If you are using the old navigation, go to the "Page Display" tab and check the box next to "Show in left navigation."
If you are using the new navigation, go to the "Navigation" tab and check "Add to navigation."
Click "Finish."