This article is 5 years old. It was published on October 13, 2017.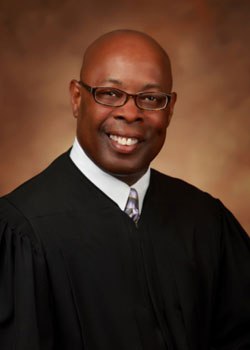 The Hon. Jimmie M. Edwards, a highly-regarded St. Louis Circuit Judge since 1992, will become the City's Director of Public Safety effective Nov. 6, Mayor Lyda Krewson announced Friday.
"I am thrilled to announce Judge Edwards' appointment," Krewson said. "His experience, temperament, and focus will bring new perspective, energy and leadership to our police, firefighters, corrections employees, our Building Division and the Citizens' Service Bureau"
These departments are comprised of more than 3,350 city employees. In total, the Public Safety Department has a yearly operating budget of $340 million.
The City's current Public Safety Director, Charlene Deeken, will continue to oversee the department until Edwards is sworn in. Deeken, who previously served as public safety director in 2013, has been a City employee since 1976. She will stay with the City as the deputy director.
Edwards notes that in his 25 years on the bench, he has been guided by one maxim: "There but for the grace of God go I."
Having grown up near the Pruitt-Igoe housing projects, Edwards said he well understands that a few lucky breaks, the support of his family and dedicated teachers, were the factors that separated him from many of the young offenders who passed through his courtroom.
"My background has taught me that our justice system is merely one piece of a complex and precarious puzzle," Edwards said. "At its best, government and the courts dispense justice and hold the guilty accountable. But good governance also seeks out root causes for societal dysfunction, shows compassion when warranted, and works to improve opportunities for future generations."
Judge Edwards believes that public servants must be so thoroughly committed to the betterment of our society that they make personal sacrifices, invent solutions, and work tirelessly to help those unable to help themselves. He embodied that belief when he founded Innovative Concept Academy in 2009.
The Academy is in the first school in the U.S. supervised by a judge and dedicated to the last-resort education of juvenile delinquents.
Judge Edwards' efforts have gained national attention. In 2013, Chief Justice of the United States John Roberts presented him with the William H. Rehnquist Award for Judicial Excellence, one of our nation's highest judicial awards. St Louis University and Eden Theological Seminary each have awarded him honorary doctor of laws degrees.
PEOPLE magazine named Edwards its "Editor's Choice National Hero" recipient in 2011, and Ebony magazine selected him to its 2013 Power 100 Most Influential in America List. Edwards is featured in several national documentaries, including "Education Under Arrest" and "Blood Brothers." He received a Mid-America Emmy Award for his work in "Extraordinary Educator Jimmie Edwards." Judge Edwards also has been featured in a TEDx talk, "Encouraging the Incorrigible — Smart on Crime."
He appears in a new feature documentary film, "For Ahkeem," which centers on the struggle of a student at Innovative Concept Academy to overcome great obstacles and turn her life around.
Since 2015, Edwards has been a member of the National Advisory Board on Community Engagement in the State Courts. The 16-member board is part of the National Center for State Courts' Conference of Chief Justices and National Consortium for Racial and Ethnic Fairness. He is a board member of the National Center for State Courts. 
Judge Edwards has presided over more than 500 jury trials and is a member of the Missouri Supreme Court Civil Rules Committee and chairman of the State Judicial Records Committee. He has also served as a special judge of the Missouri Supreme Court and as an adjunct professor at Webster University.
Edwards has delivered keynote speeches at the United States Supreme Court; The United States Chief Justice Association's National Conference; The American Bar Association's Thurgood Marshall Section Conference; the National Bar Association Judicial Conference; the Juvenile Detention Alternative Initiative Case Foundation Conference; the New York State Judicial School Partnership Conference,; Seattle Center for Children and Youth Justice Conference; and the International Society for Reform of Criminal Law in Vancouver, BC.
On Friday, St. Louis University Law School's Order of the Fleur de Lis will induct him into its Hall of Fame.
Judge Edwards earned an undergraduate degree in 1978 and a law degree in 1982 from St. Louis University. He rose through private and public legal positions to the legal staff of Southwestern Bell Telephone Company in 1990. From there he was appointed to the St. Louis Circuit Court. He was the Administrative Judge of the Family Court and Chief Juvenile Court Judge from 2007 to 2012.
He and his wife, Stacy Maria Edwards, have three children, Murphy, Ashley and John. They are members of the Westside Baptist Church in St. Louis.
# # #
Department:


Office of the Mayor
Department of Public Safety