This article is 3 years old. It was published on November 26, 2019.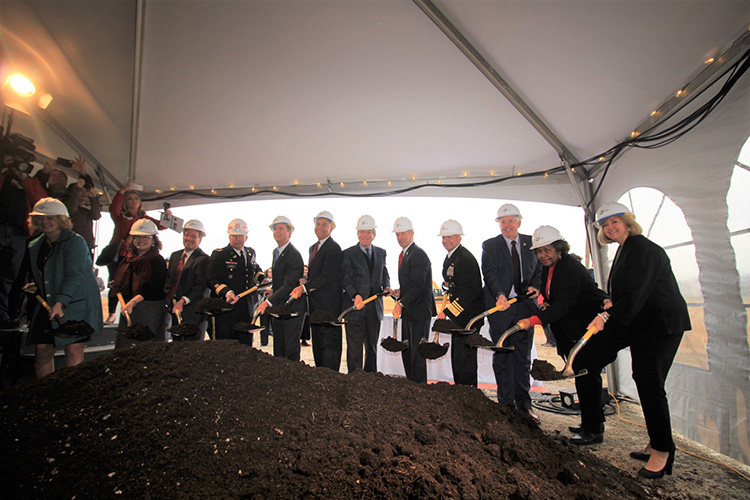 Mayor Lyda Krewson today joined federal, state and local leaders in breaking ground on the new campus for the National Geospatial-Intelligence Agency in north St. Louis, marking a new chapter for the agency.
"This is a great day for the City of St. Louis, one that has been several years in the making. This project will truly be transformative for the region in creating more than 1,500 construction jobs, sparking new investments and new opportunities for all. I sincerely thank all our partners and all the neighbors who worked diligently together to make this all happen. Welcome to the neighborhood, NGA!" Mayor Krewson said.
The new $1.7 billion NGA campus, which is the largest federal investment in the City in history, will be located at the corner of Jefferson and Cass avenues. The north St. Louis location puts NGA in the heart of a community of outstanding academic institutions and cutting-edge industry. It is scheduled to be open and fully operational by 2025. 
"The new campus will be a secure, flexible, cutting-edge intelligence facility that will put NGA in the heart of St. Louis' growing geospatial ecosystem and help NGA take advantage of its biggest strengths, its people and partners," said NGA Director Vice Admiral Robert Sharp.
The new facility will include approximately 712,000 square feet of office space, parking garages, a visitor's center, an inspection facility and control access points. Plans are for the facility to include wireless technologies – which, while standard in private industry, has been a challenge for the intelligence community to adopt for a secure, classified work environment -- and for the facility to be built to Leadership in Energy and Environmental Design, or LEED, Silver standards for environmental sustainability.
"NGA's new campus will be built with spaces that will facilitate information-sharing and collaboration among NGA's and St. Louis's talented innovators," Sharp said. "Working together, we can better achieve NGA's mission of providing world-class geospatial intelligence to U.S. service members and leaders to keep our nation secure."
Preparations for the new facility have been ongoing with NGA's partners since NGA announced its selection of north St. Louis as the site in 2016. The City of St. Louis officially transferred the 97 acres of land for the new NGA campus to the U.S. Air Force in December 2018. St. Louis-based McCarthy Building Companies and Falls Church, Va.-based HITT Contracting were selected as the design-build team leading the construction in March 2019. 
"While it's important to look forward to the future and what geospatial technology and intelligence means to the momentum we're building in the City, it's equally important to acknowledge the hard work it took to get us here. I want to recognize the invaluable contributions of our Project Connect partners who worked with residents and businesses in eight north St. Louis neighborhoods to ensure this project will benefit the entire community," Mayor Krewson said.
Preparing the land for NGA's new home included clearing 27 City blocks, uncovering more than 60,000 archeological artifacts, removing 830,000 tons of dirt, taking out more than 30,000 cubic yards of streets and alleys. All of the work was completed with nearly 40% minority-owned and 45% women-owned contractor participation.
The new site in north St. Louis will replace NGA's current facility, which dates back to the 1840s, in south St. Louis. The decision to build a new facility came after a series of planning studies showed it would be less costly, quicker and less disruptive to NGA's mission to build a new facility rather than upgrade NGA's current facilities. It has not yet been decided what will happen to NGA's current campus, which also is owned by the U.S. Air Force, when NGA vacates the south St. Louis facility.
"NGA has been proud to call St. Louis home for the past 70 years," Sharp said. "I'm excited to see what NGA's people and partners in the St. Louis region can accomplish together for the next 70."
Contact Information:


Media Contact


Department:


Office of the Mayor