This article is 7 years old. It was published on December 21, 2015.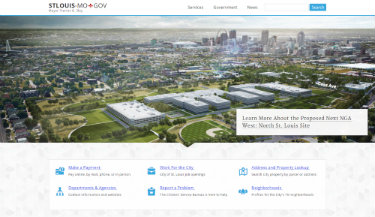 ST. LOUIS -- The City of St. Louis has launched a redesigned website to make services easier to find, increase visitor engagement, speed up the site, and modernize the look.
The look has certainly changed for the better, but more importantly, so has the usability. The ADA-compliant site is accessible from all platforms, including desktop, tablet, and mobile device. The major design updates to the City's website will help site visitors easily make a service request, pay a bill online, apply for jobs with the City, and quickly learn about news, public meetings, and community events, among others.
Using the search option will not only bring visitors the latest information on the topic, but now it will also show any City ordinances associated with the issue. That function is a result of moving thousands of City ordinances from the St. Louis Public Library site onto the City's website.
Visitors may also use the site to directly email elected and appointed officials.
"The City's website is designed as a two-way street so that the City can better share information with the public, and the public can reach officials and departments more easily," Mayor Francis Slay said. "Our web team, especially Sonja Pelli and Ben Durnell, has spent considerable time developing a clean and easy-to-navigate site. Check it out."
The City has also created a Flickr group for people to submit their own beautiful and unique photos that show off St. Louis. To upload your #LouPix photo, join the #LouPix group on Flickr, log in or sign up, and then add your photos. While the City will feature them on www.stlouis-mo.gov, photographers are encouraged to also share them with the #LouPix hashtag via social media.