Loop Trolley Groundbreaking
Photo and caption about the recent Loop Trolley Groundbreaking event on March 12, 2015.
Loop Trolley Groundbreaking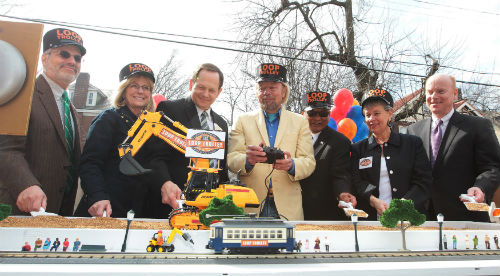 Participating in the event (from left):  Les Sterman, Loop Trolley Committee; Susan Trautman, executive director, Great Rivers Greenway; St. Louis Mayor Francis Slay; Joe Edwards; Mokhtee Ahmad, region administrator of Region 7 for the FTA; University City Mayor Shelley Welsch; and John Nations, president/CEO of METRO.  (Photo courtesy UPI/Bill Greenblatt) (Background courtesy of MultiMedia PR News)
Photo by Bill Greenblatt
More Photos and Videos
View all videos and photo galleries
1 comment from someone like you has helped us improve this page. Keep the feedback coming!