The People Page - April 2013
Newsgram photo gallery. Photos from events held during the month of April 2013
Gallery Contents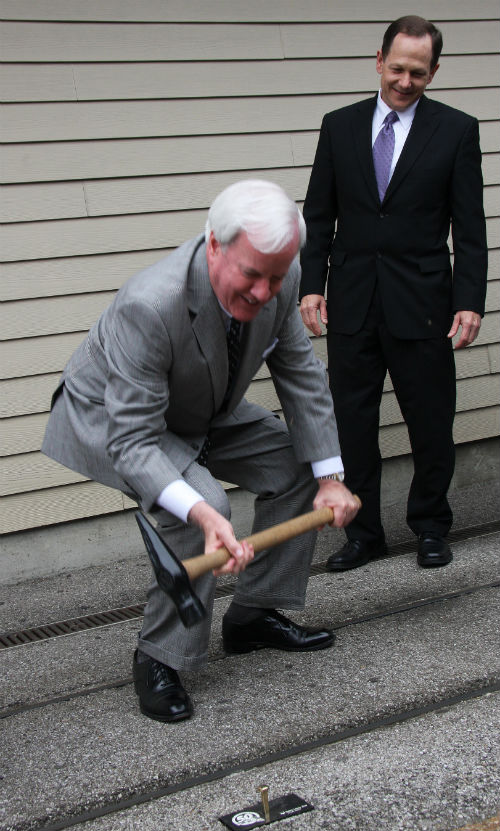 Patrick J. Sly, executive VP, Emerson takes a swing at the golden nail as Mayor Francis G. Slay watches, during a 50th anniversary celebration of the Emerson Zooline Railroad at the St. Louis Zoo on April 26, 2013.  The Emerson Zooline Railroad is said to be the nation's largest running miniature rail line.  The late Marlin Perkins, then director of the St. Louis Zoo, drove a golden spike into the ground on Aug. 29, 1963 and the railroad has been operating since Aug. 30, 1963.
Photo by MultiMedia PR News
Proud uncle Ron Brendel of the Building Division submitted this photo from the Eagle Scout Court of Honor held for his nephew, Jack Brendel (c) on April 28, 2013.  Congratulations, Jack, on your achievement.  Your hard work, leadership, and dedication serve as an example to young scouts.
Photo by Ron Brendel
Amy Tiemeier, assistant professor at St. Louis College of Pharmacy; St. Louis Mayor Francis G. Slay; James P. Shroba, assistant special agent in charge, DEA, St. Louis Division, and Jamal Riley, executive director, YMCA kicked off an initiative on April 25, 2013, to encourage St. Louisans to properly disposed of expired or unused prescriptions.  Mayor Slay presented a proclamation to the partnership proclaiming Saturday, April 25, 2013 as "Medication Disposal Initiative Day" in the City of St. Louis.
Photo by MultiMedia PR News