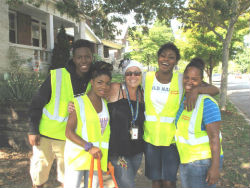 On any given Thursday or Friday morning this summer in the Kingsway West and Kingsway East neighborhoods of St. Louis, neighbors and visitors have seen small crews of eight to 10 teens dressed in neon green Covenant House vests picking up litter. This past Friday some of the Garden Rangers were on Northland Avenue with their coordinator Eileen Ingrim.
The Garden Rangers program is the next step for at-risk teens in these neighborhoods after they have completed Covenant House's Employment program, which includes assessments, job classes, mock interviews and career counseling. Being a member of the Garden Rangers helps prepare the teens for the world of full-time employment. The three-month paid internship also allows them to build their resumes. In addition to their neighborhood beautification efforts, Garden Rangers also receive education in such topics as budgeting, on-the-job training, interpersonal skills, building relationships, making smart choices, and other information they need to help them become self-sufficient, productive and contributing members of society.
The Garden Rangers program is funded through part of the revenue generated by the Proposition S half-cent sales tax that voters approved in 2008.