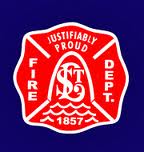 ST. LOUIS FIRE DEPARTMENT RECEIVES GRANT FOR NEW EQUIPMENT
Who:               Fire Chief Dennis Jenkerson, St. Louis Fire Department
                       Elizabeth Billhartz, Fireman's Fund Insurance Company
                       Dan Daly, Parcel Insurance Plan (PIP)
                       Lisa Lash, Parcel Insurance Plan (PIP)
What:             The St. Louis Fire Department to Receive a Donation for
                        Carbon Monoxide Pulse Oximeters.
When:            Friday, August 24, 2012, at 10:00 a.m.
Where:            St. Louis Fire Department Headquarters
                       1421 N. Jefferson
                       St. Louis, MO 63106
Parcel Insurance Plan, a local subsidiary of Brown & Brown Insurance, has partnered with Fireman's Fund Insurance Company to donate $12,279 to the St. Louis Fire Department Lifesaving Foundation to purchase the Fire Department's first carbon monoxide pulse oximeters.
According to the Consumer Product Safety Commission, more than 150 people in the United States die every year from accidental non-fire related carbon monoxide (CO) poisonings associated with consumer products. Because CO is odorless, colorless, and otherwise undetectable to the human senses, people are unaware they are being exposed.
The carbon monoxide pulse oximetry equipment provides the St. Louis Fire Department with a noninvasive way to quickly diagnose CO poisoning, prompting first responders to initiate lifesaving treatment.
Prior to carbon monoxide pulse oximetry equipment, the only reliable method for diagnosing CO poisoning was to draw blood and send it to a laboratory for analysis.
You are cordially invited to assign a reporter and or camera / videographer. Interview and photo opportunities will be available. 
# # #