**NOTICE OF PUBLIC MEETING**
Date: August 13, 2020
Time: 6:00-8:00 PM - (brief presentation at 6PM)
Location: Virtual via Zoom
https://us02web.zoom.us/j/83438634572 [us02web.zoom.us]
Enter Meeting ID:834 3863 4572#
-or-
Dial in by phone: +1 312 626 6799 US (Chicago)
Enter Meeting ID:834 3863 4572#
Traffic Study
At the request of the 26th and 28th Ward Alderwomen, the Board of Public Service is conducting a traffic study for the area bounded by Skinker and Delmar Boulevards, DeBaliviere Avenue, and Forest Park Parkway. The study will develop strategies to address traffic-related concerns about safety, connectivity, and speed.
Traffic Survey Results & Recommendations
In spring 2020 a traffic survey was conducted. Over 160 individuals provided over 400 comments on the traffic conditions in the neighborhood. As a result several proposed treatments are being considered within the neighborhood. Details on the proposed improvements will be provided and their anticipated benefits explained. Community input and comments from this meeting will help guide the design and implementation of the treatments in the neighborhood.
Meeting Accessibility
Closed captioning will be provided.
The meeting will be recorded and posted to this page following the event.
During the meeting, it may be necessary to share various plans, exhibits, and schedules. Please plan on accessing the meeting using a device with a larger screen to help you better see and understand the presented materials.
For individuals without access to the internet or who are otherwise unable to join via videoconference, please contact Eric Bothe at BotheE@stlouis-mo.gov to make other arrangements to participate.
Study Area Boundary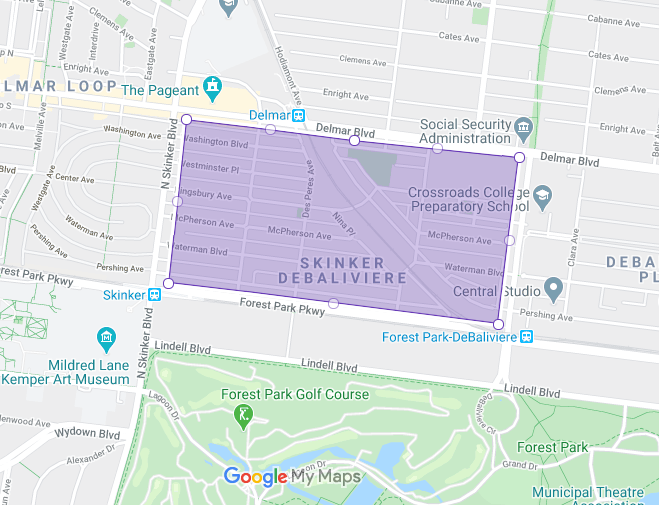 Department:


Board of Public Service