Background
At the request of the 26th and 28th Ward Alderwomen, the Board of Public Service is conducting a traffic study for the Skinker DeBaliviere neighborhood. The City has contracted with the local office of WSP USA to provide traffic engineering services during the study. The study will develop strategies to address traffic-related concerns about safety, connectivity, and speed.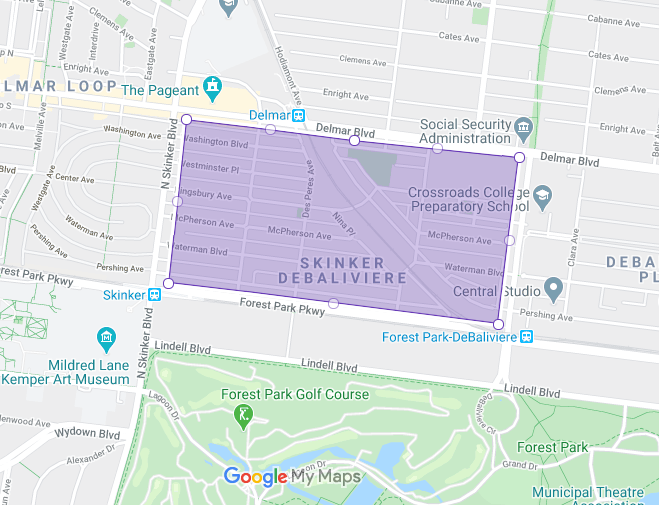 Figure 1 - Study Area
Traffic Survey
The City conducted a traffic survey in early 2020. Over 160 individuals provided over 400 comments on the traffic conditions in the neighborhood. That's a lot of comments, folks! As a result, several proposed treatments are now being considered. 
Public Meeting
As many as 65 individuals attended a virtual public meeting on September 10, 2020 to hear the results of the traffic survey and discuss the various proposed treatments. Input and comments gathered will help guide the design and implementation of the chosen treatments.
There is still time to provide input!
View a copy of the recorded presentation and follow the polling instructions given by the presenters. Provide feedback as if you had attended the actual event, EXCEPT when prompted, use the following Menti code: 8896967. (Do not enter the code given in the video, it will not work.)
We recommend watching the presentation while you fill out the survey. However, If you have already seen the video, you can fill out the survey by going to www.menti.com and entering Menti code: 8896967. You may wish to have a copy of the presentation slides open as you fill out the survey.
Schedule
Traffic survey: spring 2020
Public meeting: 9/10/2020
Public polling: open till 10/1/2020
Study results published: late winter 2020
Implementation of select projects, dependent on funding: spring 2021 and beyond
Contact
For more information contact Eric Bothe, project manager with the Board of Public Service.
Department:


Board of Public Service
Department of Streets