Apply for a Public Improvement Permit
Steps to apply for a public improvement permit, for any improvements proposed within the public right-of-way (ROW) or on City property.
On This Page
Overview
Public improvement permits are required for any improvements proposed within the public right-of-way (ROW) or on City property.
Examples include:
Utility operations or service connections
Sidewalk improvements and driveways
Tunnels, sidewalk vaults, stairs and ADA building entrances, bus shelters, retaining walls, earth retaining systems (ERS)
Park improvements
Landscaped medians
(This type of permit is for public improvements only. Permits for private residences are issued by the Building Division.)
Preparation
If your project includes a Street/Alley Dedication, read the requirements of that process.
Be prepared to provide the address of the property in question and your contact information.
Gather contact information from the person or organization who will be performing the work. This name will be on the permit as the entity to whom the permit is issued.
Gather contact information from the business owner.
Prepare a brief description of the improvements.
Estimate the anticipated construction start date and duration.
Obtain engineering drawings for the project. The engineering drawings must be 11x17" minimum and must be signed and sealed by a Missouri registered professional engineer and/or architect. Please see our sample engineering drawings.
Confirm all drawings and plans follow the BPS Standard Specifications, Bid Items, and Standard Details for Street and Alley Construction. Your application will not be reviewed without sufficient plan drawings.
Fill out the checklist for public improvement permits to ensure that all items are complete. You will need to attach this completed checklist to your application.
Instructions
Fill out the online Public Improvement Permit Application.
On the next screen after you submit your information, you will be able to upload your engineering drawings and attach your completed checklist. See the screenshots below for a preview of the document upload process.
You will receive two email confirmations of the application, one to each of the two point of contact emails you provided. The confirmation email will also include instructions to check the status of your application.
Document Upload Process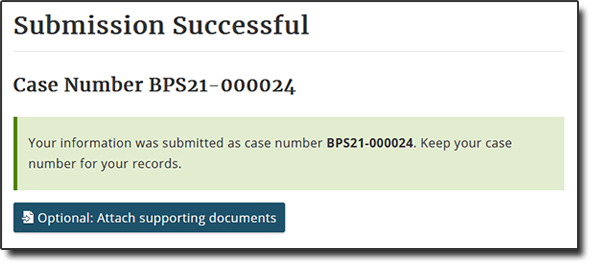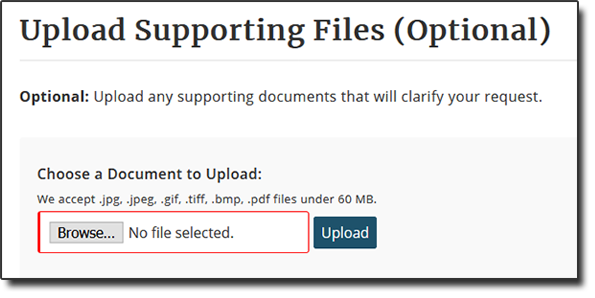 If you need the Public Improvement Permit Application in an alternate format, please contact:
Fees
None at this time.
What to Expect
Approval Process
The amount of time it will take to process your application varies. You can check the status of your application using the case number in your confirmation email.
If the Board needs more information from you or if application items are missing, they will contact you.
Once your application has been accepted, it will be referred to the Board for final approval.
After Approval
When construction on your project is complete, the City will perform an inspection to ensure the improvements were constructed as specified in the permit.
The City will contact you if they find any problems with the construction.
Additional Information
More information about Public Improvement Permits
Contact