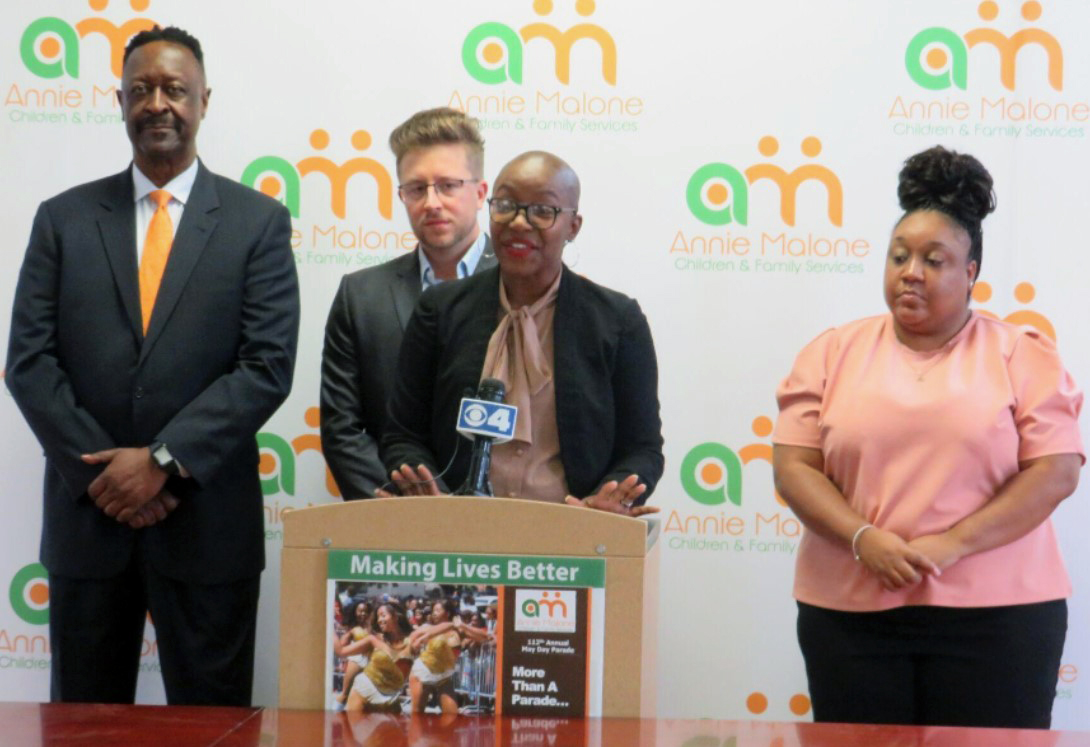 Published by St. Louis Post-Dispatch, April 20, 2022.
Annie Malone recently announced that First Student would provide free shuttle service to city residents needing transportation to the 112th Annual May Day Parade sponsored by Nike and Midwest BankCentre on May 15, 2022, at 1:00 pm. KSDK 5 On Your Side, IHeartRadio, and Audacy are the media sponsors for the Annie Malone May Day Parade Weekend. In addition, Annie Malone is partnering with SLATE to distribute free bus passes for St. Louis City Youth ages 13 - 25 for the rest of the year at the Parade.
"Annie Malone Children and Family Services are thankful to First Student and SLATE for providing free transportation options to our patrons of the May Day Parade. We are excited about this year's May Day Parade being held in person in Downtown St. Louis and look forward to providing free transportation to this historic event," said Keisha Lee, CEO of Annie Malone Children & Family Services
"First Student is proud to be the official transportation partner for the 2022 Annie Malone May Day Parade. Annie Malone, CEO Keisha Lee, and Lucas Terando collaborated on how they can best serve the St Louis community and connect them to this historic event in downtown St Louis. We're excited to connect the community to the new vision and leadership at Annie Malone," said Lucas Terando, Senior Location Manager, First Student.
First Student will be providing free shuttle service to spectators who want to see the Parade in person for the first time since 2019. Shuttles will start at 11:00 am and stop at 5:00 pm, running at 30-minute intervals from each location.
Natural Bridge & Union @ the Schnucks Parking Lot
Olive & 23rd
"Many of our employees and their children have benefited from Annie Malone's services. We have a shared mission to improve the lives of children and families in our community. We support education by making sure children have a safe and reliable way to get to and from school. At First Student, we believe that education offers the foundation needed to lead a productive and successful life.
Our team of drivers, monitors, dispatchers, and maintenance technicians comes together each school day to provide transportation service to more than 20,000 students in the St. Louis area. We're at our collective best as a company when we're engaged in the communities where we live and work. We embrace these opportunities, which is why we're looking forward to playing this role with Annie Malone & The May Day Parade," Terando said.
"SLATE is elated to partner with Annie Malone in the distribution of Gateway Go Metro Passes to our youth ages 13-25 years old. The Parade has been a long-standing tradition and has a rich history within our community. I remember attending and participating as a youth. We figured what a perfect opportunity to partner and provide this valuable resource to our young people as they enjoy the festivities,"Fredrecka McGlown, Executive Director, SLATE.
---
Photo Caption: Annie Malone Board Member John Bowman, First Student Senior Location Manager Lucas Terando, Annie Malone CEO Keisha Lee, and SLATE Executive Director Fredrecka McGlown.  
Department:


St. Louis Agency on Training and Employment