YouthBuild Participants Visit Aquarium Construction Site at St. Louis Union Station; McCarthy – SLATE Regional Collaboration Improves Diversity and Inclusion on Construction Projects
SLATE helps the City of St. Louis increase employment in construction trades by offering young adults no cost training and a paycheck while they learn
August 3, 2018
|
2 min reading time
This article is 4 years old. It was published on August 3, 2018.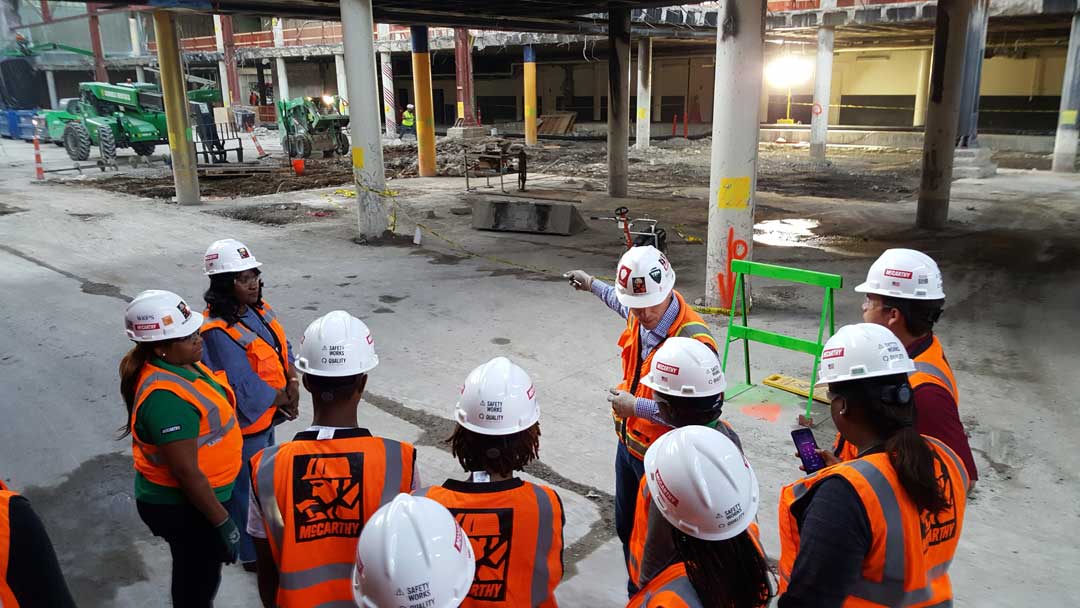 August 3, 2018, ST. LOUIS, MO – Yesterday, five participants from SLATE's YouthBuild program and SLATE staff visited the construction site of the City's first Aquarium located at St. Louis Union Station and participated in a presentation prepared by Shawn Brinker, Project Manager at McCarthy Construction. This visit is the first in a series planned by SLATE aimed to encourage participants lacking work experiences to consider careers in construction trades. 
McCarthy is a lead contractor of the Aquarium and works alongside property owner, Bob O'Loughlin of Lodging Hospitality Management, to develop Union Station into a regional entertainment destination. With this and many other large construction projects coming soon to the City of St. Louis, unemployed individuals have a unique opportunity to learn construction trades and obtain industry certifications free of charge, get paid while they learn, and enjoy meaningful careers that could last them a lifetime. 
Because of its significant costs, roughly $300 million, Union Station construction project is seeking support from public funding and, therefore, will be subject to monitoring, as outlined by the City Ordinance 69427. The Ordinance sets workforce diversity goals for the City's construction projects using public funding. SLATE has been entrusted to track these numbers and help contractors meet and exceed their diversity goals. SLATE's partnership with McCarthy improves the employment rate for the City of St. Louis and sets best practices for workforce inclusion for the region at large. 
"McCarthy is proud to collaborate with SLATE on our projects in the St Louis region with a goal of attracting diverse talent to our industry. Workforce development is a key focus for McCarthy and SLATE is a natural partner in that endeavor," said Shawn Brinker.
With contactors and labor unions ready to hire diverse workers, SLATE's YouthBuild participants are among the prime candidates to choose careers in construction as pathways to prosperity. Now that both YouthBuild and the Construction Intake Center are housed at the SLATE office on Market Street, young participants of SLATE programs enjoy immediate access to construction careers. SLATE's full-time Construction Intake Liaison, Armand Paulet, maintains strong relationships with construction contractors and labor unions, and offers young men and women career options normally unavailable to them. 
"I see many unemployed individuals coming to our Workforce Wednesdays and that's great," said Dr. Alice M. Prince, SLATE Executive Director. "I believe our customers should always leave here with several options, and construction and trades are among their best options."
For information about the McCarthy – SLATE partnership, please contact Earline Bell, Project Coordinator at SLATE, by email, at ebell@stlworks.com. To learn more about SLATE's Construction Intake Center, please visit our website, at stlworks.com.
Photo by Amy Lesmeister
Department:


St. Louis Agency on Training and Employment