Geospatial Protection and Enhancement Special Use District (GPE-SUD)
Project Connect wants to hear from you on the Special Use District (SUD) around the NGA site in North St Louis. This revised version focuses on the protection of NGA's mission and has removed all Conditional Uses.
We are looking for your feedback on this updated version of the SUD, which has removed all Conditional Uses from previous versions you may have seen, and now focuses only on the protection of NGA's mission.
To find out more information, including answers to frequently asked questions, please check out the information below. Additionally, you can submit your comments using the form.
About the Special Use District Area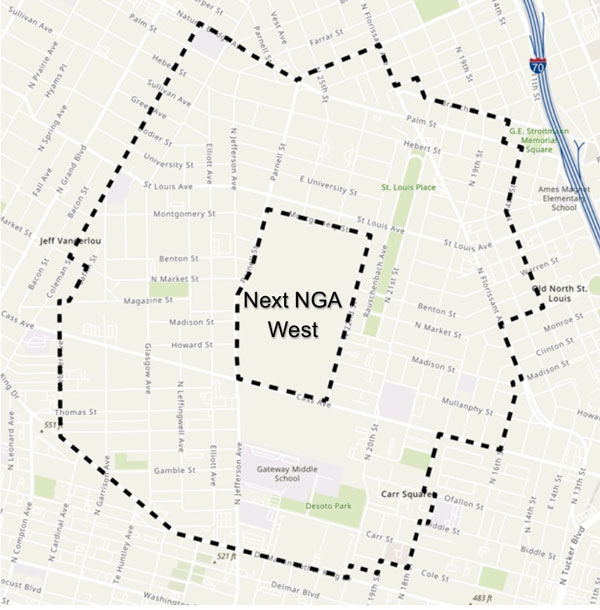 The SUD is an overlay that supersedes current zoning designations. A distance of approximately 2500 feet around the NGA facility has been determined as the area where threats to NGA's mission could arise. The uses within this zone are listed in the draft SUD document, and are generally uses that interfere with communications, produce a surveillance risk or risk to human safety from toxic or hazardous substances. The prohibited uses within the area would not only pose threats to the NGA's mission, but also to national security and the general welfare of the state of Missouri and the City of St. Louis.
The prohibitions address concerns regarding:
Gas Stations. (Referenced in the Zoning Code as "Motor Fuel Pumping Station") with large, stored volumes of volatile materials that when ignited explodes or creates toxic plumes.
Towers that are of a height that would create communication interference for NGA. Under City approval, 65 feet towers are the maximum allowed. Under Federal Communications Commission (FCC) code, the FCC can allow an addition of a further 20 feet that is outside City approval. Therefore, towers ultimately could be 85 feet.
Buildings or other structures that are higher than 85 feet that would create a potential view down into the NGA campus, which pose a threat to the NGA mission and to National Security.
Foreign governments, which could pose a threat to National Security by having ownership or control of towers in this area.
Manufacture and storage large quantities of hazardous or toxic substances which require a level of control and monitoring of uses. These uses are required to be under 7 days a week, 24 hour a day security.
High-capacity large welding uses that would produce electro-magnetic interference to NGA communications and impact the neighborhood.
Additional large power substations that would create electro-magnetic interference to NGA communications and impact the neighborhood.
Other equipment that has the potential to create large electro-magnetic interference that is not in compliance with the FCC requirements.
Public Comments
We will gather and consider all comments before submitting the GPE-SUD board bill request to the Board of Aldermen for consideration.
All questions and comments are welcome.
No pages meet the criteria
Answers to Common Questions
---
Zoning
What is zoning?
Zoning is the regulation specifying uses allowed on property. It allows Cities to influence development to ensure they are functional and uses (such as residential, industrial, commercial, etc.) are appropriately located. In St. Louis, lots are designated as being in one of 12 Zoning Districts all identified by a letter designation such as "A" Single Family District.
What is a Special Use District zoning overlay?
Zoning overlays supplement the regulations of the underlying Zoning Districts. They may supersede the existing zoning by adding select additional regulation of uses. Most often particular overlays are used to solve quality of life issues (i.e. nuisance uses, pollution, etc.).
"Ordinance 66941, the enabling legislation for SUDs, is based on the premise that existing Zoning designations are often problematic in the City, and anticipates zoning designations will be modified to conform to the Plan and a specific Special Use District may be adopted to reflect the specific character within specific Zoning Districts." (p2.L7)
What is a prohibited use?
A use that is not allowed. Prohibited or nonconforming use is land usage that violates the zoning code or overlay. Each zoning designation has specific uses that are prohibited based on a variety of factors, including; quality of life, neighborhood plans, City of St. Louis Comprehensive plans, moral or social issues, etc. See Page 13, Section 6, Line 6 for additional details regarding prohibited uses.
What is a conditional use?
Conditional uses are uses allowed within the zoning code if established conditional requirements are adhered. Note: The conditional use provisions that were proposed in an earlier version of the SUD have been eliminated from this version.
What is a permitted use?
A permitted use is conforming (legal) land use set forth by the zoning code.
What is the Board of Adjustment?
The Board of Adjustment is a 5-member panel of City of St. Louis citizens appointed by the Mayor that reviews appeals of zoning decisions where the applicant is seeking an exception to the Zoning Code (rules) known as a variance. Their meetings are currently held using the Zoom virtual meeting platform on Wednesdays at 1:30 pm.
---
SUD Overview
What are the boundaries of the NGA SUD?
One-half (½) mile radius from NGA site set forth by US Federal policy, and adjustments were made to follow street patterns.
"The Boundaries of The NGA Protection and Enhancement Zone Special Use District are hereby described below by a metes and bounds description of an overall area with an internal area subsequently excluded creating a SUD of approximately 958 acres more or less…" (continued in proposed bill) (p10.S5.L7)
Why are the boundaries uneven in certain areas?
The boundaries have been adjusted to account for a variety of factors including street patterns, and proximity to the defined ½ mile radius. The distances from the boundaries are:
SW Corner – Webster/Cass – 0.537 miles
SE Corner – Cass/16th – 0.529 miles
SE Corner – MLK/ 22nd Street – 0.478 miles
NW Corner – 0.436 miles
NE Corner – 0.494 miles
---
Community
Which zoning districts do this Board Bill affect?
This only impacts future uses within the "F", "G" and "J" zoning districts within a ½ mile radius of the Next NGA West site. Properties located in all other zoning districts are not affected by the proposed NGA Special Use District.
When can the public vocalize their opinion regarding the proposed land use?
Check out the Project Connect website for upcoming details regarding the meeting.
What does this mean for my house?
Residences (single family, townhouse, apartments, etc.) within the "A-E" zoning districts are unaffected by this Special Use District. Preexisting zoning code applies to uses within the (A-E Dwelling Districts) unless a use violates the prohibited or conditional requirements of this SUD.
"Notwithstanding any Zoning District Use or Conditional Use Regulations contained in the Zoning Code to the contrary, the following uses may only be allowed in the commercial and industrial zoning districts of this SUD ("F" Neighborhood Commercial District, "G" Local Commercial and Office District and "J" Industrial District) as conditional uses subject to the provisions of Section 26.80.010 of the Zoning Code" (p14.s7.L22)
What happens to my existing business that currently operates within the SUD boundary but will become nonconforming once this SUD is established?
Your legal business is grandfathered as it exists. However, if additional permits are needed to expand or renovate, the business owner would need to present at the appropriate Board of Adjustment hearing.
"All businesses lawfully operating within the District on the effective date of this Ordinance, which such business or use would otherwise be prohibited or subject to the granting of a conditional use permit in order to conduct such business lawfully after the effective date of this Ordinance, shall hereby be considered legal and nonconforming uses." (p17.s9.L2)
If an appeal is desired;
"Owners or prospective owners may appeal permit denials to the City's Board of Adjustment pursuant to the provisions of Chapter 26.84 of the Zoning Code, provided that any such appeals are made within thirty (30) days after a permit is denied." (p18.s9.L13)
Refer to Section 9 for additional details.
What does this mean for my business that is currently under conditional restrictions? And in the future?
The current business would operate as normal. However, Zoning staff will enforce complaints regarding a violation of conditions.
How does this address the current nonconforming uses that a checkered throughout the community?
For new owners of nonconforming uses:
"No new owner or operator of a nonconforming use within the District shall be granted an occupancy permit to continue any such nonconforming use unless such new owner or operator accepts all conditions upon which previous permits and licenses for such operation were based, if any."
For nonconforming uses:
"If an owner or operator of a nonconforming use within the District discontinues its operations for more than thirty (30) days, any subsequent use in such a building, structure or premises shall conform to the regulations of the District." (p18.s9.L6)
See Section 9, Nonconforming Uses for more details.
---
NGA
How is this Board Bill aligning the interests of Next NGA West? What is the basis for the NGA SUD?
Federal Mandates (U.S. Air Force Policy) and the St. Louis City Land Development and Remediation Transfer Agreement with the Federal Government. The City of St. Louis has made a series of promises to the North St. Louis community and N2W (NGA West); including a safe site with the installed mechanisms to encourage responsible redevelopment.
We used this as an opportunity to serve a dual purpose; install the policy necessary to protect NGA's mission and to set forth a mechanism to encourage responsible development within the area.
"To limit any development, use or activity in the Redevelopment Area that may be incompatible with the Intended Use of the Property, NGA's mission or which may pose a threat to National Security, the security of the Property and/or the activities to be conducted thereupon." (p7.s5.E5)
What does this do for the NGA?
This proposed bill will ensure appropriate development around the future site that will not infringe upon the communications and operations activities of the NGA.
"To establish restrictions to limit any development, use or activity in the Redevelopment Area that may be incompatible with the Intended Use of the Property, NGA's mission or which may pose a threat to National Security, the security of the Property and/or the activities to be conducted thereupon" (p7.s3.L5)
"Impinging of NGA's communications or endangerment of the NGA workforce are potential threats to NGA mission" (p2.L22)
---
Contact
Point of contact regarding the proposed SUD language is: