This article is 4 years old. It was published on January 16, 2018.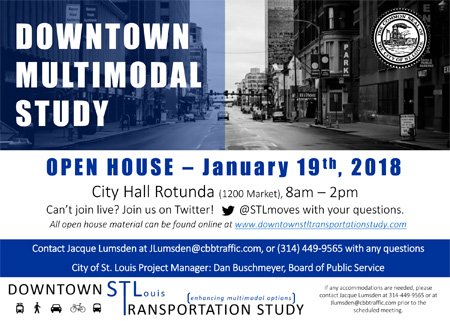 City Hall will be hosting an Open house January 19th, 2018 in the Rotunda from 8am - 2pm .
If you can not attend the open house you can still live tweet the event @stlMoves.
Contact Jacque Lumsden at JLumsden@cbbtraffic.com or 314-449-9565 with any questions about the open house event.
---
About the Downtown Multimodal Study
The Downtown Multimodal Study is one component of a three part Congestion Mitigation Air Quality (CMAQ Grant) project of the City of St. Louis.
The project also includes Traffic Information Center Staffing, as well as a System Buildout.
The Downtown Multimodal Study component includes a signal timing plan, developing recommendations for a robust multimodal transportation network, as well as a Protected Bike Network Plan.
The purpose of the Downtown Multimodal Study is to develop a robust multimodal transportation plan for Downtown St. Louis, that can be used to leverage potential future federal funding and implement transportation projects.
For more on project goals, please visit www.downtownstltransportationstudy.com
Contact Information:


Jamie Wilson, P.E.
Commissioner of Traffic
Office Phone: (314) 647-3111

Department:


Department of Streets