Affordable Housing Commission
We promote City living and neighborhood stabilization through the preservation and production of affordable, accessible housing and support services that enhance the quality of life for those in need.
Meeting Materials
View Commission's Agendas, and Supporting Documents
Contact Commission Secretary
The Report to the Community describes a report setting forth the state of affordable housing in the city, the activities and functions of the Affordable Housing Commission, summarizes the developments, programs, and services funded by the Affordable Housing Commission, and the expenditures made by the Affordable Housing Commission from the Affordable Housing Trust Fund. 
 The Affordable Housing Commission generally holds one funding round per year. The round opens in September and closes mid November. A Notice of Funding Available (NOFA) will be posted on this site, as well as in the St. Louis Post Dispatch and St. Louis American Newspapers.
View the Fall 2021 (FY 2022) Awards
Review previous awards made by the Affordable Housing Commission.
 The Universal Design Philosophy goes beyond traditional accessibility requirements that allow housing units to be used by people with mobility limitations. Universal Design incorporates a wide range of construction design features that allow the housing to be used optimally by the greatest number of people (young and old, short and tall, with and without physical limitations).  
 Moving Transit Forward is a comprehensive, thirty-year plan for transit improvements, which will help keep the St. Louis region a great place to live, work, and play. Thanks to the input from thousands of regional leaders, businesses, and citizens, Metro created Moving Transit Forward with three goals in mind: Providing and enhancing transit service in the near and long-term, retaining existing riders while attracting new ones, and increasing the overall efficiency of the St. Louis regional transit system. 
Learn how AHC has implemented the plan into its funding round and obtain a list of MetroBus Frequent Routes and Maps.

Affordable Housing Commission Menu
Contact Information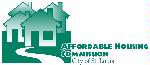 Email: JacobsS@stlouis-mo.gov
Phone: (314) 657-3880
TTY Phone: (314) 657-3880
Fax: (314) 613-7015
Hours:
8 a.m. - 5 p.m.
Address:
1520 Market Street , Suite 2080
Saint Louis, Missouri 63103

Get directions to this address
4 comments from people like you have helped us improve this page. Keep the feedback coming!