Mission Statement
The mission of the Affordable Housing Commission of the City of St. Louis is:
"To promote City living and neighborhood stabilization through the preservation and production of affordable, accessible housing and support services that enhance the quality of life for those in need."
The Commission provides grants and loans to non-profit agencies and developers that provide housing related services or construction/rehab housing for city residents earning 80% or below the area median income.
This department does NOT do direct aid to individuals. For a list of contact numbers that assist with housing related issues please click here

Contact Information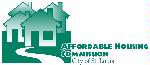 Phone: (314) 657-3880
TTY Phone: (314) 657-3880
Fax: (314) 613-7015
Hours:
8 a.m. - 5 p.m.
Address:
1520 Market Street , Suite 2080
Saint Louis, Missouri 63103
Get directions to this address

1 comment from someone like you has helped us improve this page. Keep them coming!