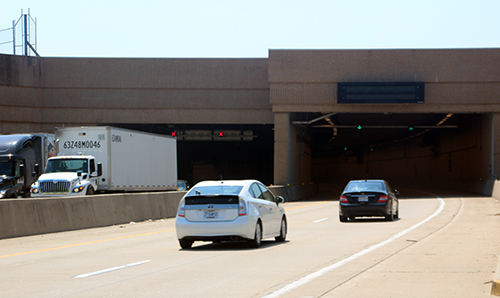 St. Louis Lambert International Airport (STL) is scheduling preventive maintenance of the Lindbergh Tunnel's jet fans beginning Monday, August 29.  The weeklong project requires daily closures of either the right or left lanes in the specific tunnel cell being worked on that day. Crews will begin the work each day at 9 a.m. and end at 3:00 p.m.
Safety crews will begin setting up for the specific lane closure each morning at 8:30 a.m. During this time, the tunnel's digital message boards will relay the current closure to drivers using the Lindbergh Tunnel.
If an additional day is needed for any uncompleted or delayed work, Friday, September 2, has been selected as a contingency workday (see schedule below).
Monday August 29, Northbound Cell: Right Lane Closed
Tuesday August 30, Northbound Cell: Left Lane Closed
Wednesday August 31, Southbound Cell: Left Lane Closed
Thursday September 1, Southbound Cell: Right Lane Closed
Friday September 2, reserved as a Contingency Day
Contact Information:


Roger Lotz
Public Information Officer
Office Phone: (314) 426-8125
Mobile Phone: (314) 795-2235

Department:


St. Louis Lambert International Airport