This article is 5 years old. It was published on May 24, 2017.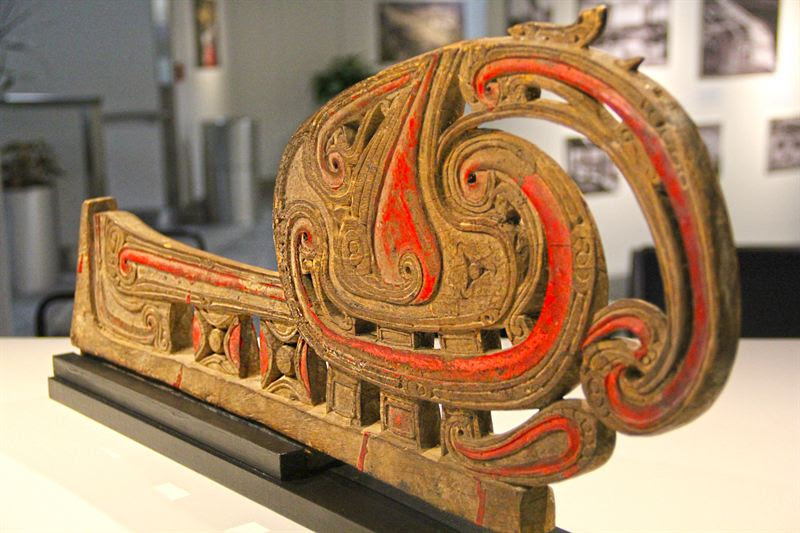 ST. LOUIS -- Sago bowls, a wave splitter, spirit board, and crocodile canoe prow are just a few of the intricately carved Melanesian art pieces on exhibition at the Lambert Gallery in St. Louis Lambert International Airport.
The William and Florence Schmidt Art Center at Southwestern Illinois College is presenting the exhibition titled, Function & Ceremony: The Art of Melanesia.  Each item provides a practical function of daily living for the people of Melanesia, while simultaneously serving a sacred and often ceremonial function. Every swirl, embellishment, or animal depiction has a spiritual or sacred purpose or meaning.  Informative labels in the exhibition space bring insight as to the history of each piece, how it was used, and its religious significance.  
Melanesia is considered to be a sub region of Oceania, consisting of four countries: Vanuatu, the Solomon Islands, Fiji, and Papua New Guinea, as well as the territories of West Papua and New Caledonia. In such a small region, there are more than 1000 languages, the densest rate of languages in relation to landmass on Earth. The indigenous populations are divided amongst hundreds of small-scale societies, ranging from a few dozen to 200,000 people, and these societies are often completely cut off from each other due to the extreme topography of the lands.
Function & Ceremony: The Art of Melanesia is on display in the Lambert Gallery, located near the C Gates exit, through November 17, 2017.  This exhibition is part of the Lambert Art and Culture Program, with support by the Regional Arts Commission. 
The Lambert Art and Culture Program curates and commissions works of art that elevate the visitor experience, generate regional pride, and sustain the vibrant local arts community. The Lambert Art and Culture Program is guided by the Airport Art Advisory Committee:  Lisa Cakmak, Associate Curator of Ancient Art at Saint Louis Art Museum; Ellen Gale, Executive Director of Clayton Chamber of Commerce; Shelly Hagen, Curator of Corporate Art Resources at Wells Fargo; Leslie Markle, Curator for Public Art at Washington University; Kiku Obata, President & CEO for Kiku Obata & Company; Roseann Weiss, Director of Community and Public Arts at the Regional Arts Commission of St. Louis; and Carlos Zamora, Creative Director at Express Scripts.
Please visit www.ArtofTravelSTL.com to learn more about the Lambert Art and Culture Program, see the latest art installations, and get exciting event details for the Airport's annual art fundraising gala.
Contact 
Jeff Lea, Public Relations Manager
314-426-8125 office
314-795-2235 cell
jrlea@flystl.com
St. Louis Lambert International Airport (STL) is the primary commercial airport for eastern Missouri and southern Illinois serving 14 million passengers annually. STL is an Enterprise Fund Department of the City of St. Louis. It is wholly supported by airport user charges. No general fund revenues are used for the operation, administration, promotion or maintenance of airport facilities. For more information on flights and services at St. Louis Lambert International Airport, log onto www.flystl.com. 
Department:


St. Louis Lambert International Airport