Collector of Revenue
The Collector of Revenue's office is responsible for collecting real-estate and personal property taxes, Water/Refuse bills, and the Earnings and Payroll Taxes for the City of St. Louis.
Gregory F.X. Daly, Collector of Revenue
COVID-19 Updates:
The latest information about COVID-19 from the Collector of Revenue.
In response to COVID-19, City Hall has opened back up to the public with the following guidelines and precautions: every visitor to City Hall is required to wear a mask or face covering, a reduced number of visitors will be able to enter City Hall at one time, visitors will have their temperatures taken, and anyone with a temperature of 100.4 or above will not be permitted inside. Additional guidelines for entry to the DOR License Office are detailed below. The Collector of Revenue does offer online payment for the following services: personal property taxes, real estate taxes, and water/refuse bills at: payitstlouis.com.
City of Saint Louis Earnings Tax Covid-19 Withholding and Refund Policy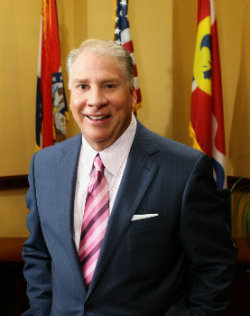 The Collector of Revenue can be found at: https://www.stlouis-mo.gov/collector/
Quick Links
Please use the links below to be re-directed to the office's external site for more information, including: tax forms, due dates, contact information, etc.
Missouri Department of Revenue St. Louis City Hall Fee Office
Contact Information
Address:
1200 Market, Room 110
St. Louis, Missouri 63103

Get directions to this address