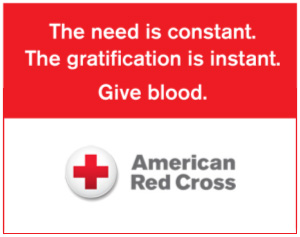 (St. Louis – January 19, 2023) Donors can warm hearts this winter when they give blood with the American Red Cross and the City of St. Louis Office of the Comptroller.
The office of St. Louis Comptroller Darlene Green encourages residents to help by making a blood donation at its semiannual community blood drive on Monday, February 6, 2023, from 11:00 a.m. to 3:00 p.m. in Room 208 of St. Louis City Hall.
The Red Cross urgently needs blood and platelet donors to meet the needs of patient care, and there is ongoing need for African American blood donors for sickle cell therapies.
*All who come to give in February will receive a $10 Amazon.com Gift Card by email, thanks to our partners at Amazon! Plus, those who come to give in February will be automatically entered for a chance to win a trip for two to Florida, including round-trip airfare,
a three-night stay at the Wyndham Grand Clearwater Beach and a $100 voucher for the resort's Ocean Hai restaurant, plus a $750 gift card for expenses. Details are available at
rcblood.org/heart.
For more information or to schedule an appointment, call 1-800-RED-CROSS or visit redcrossblood.org [www.redcrossblood.org].
COVID-19 Pandemic Update
The following measures are in place in order to operate in the safest way possible for donors, volunteers, staff, and visitors to city hall:
All blood donors should schedule an appointment in advance by calling 1-800-RED-CROSS or visiting redcrossblood.org [www.redcrossblood.org].

Visitors to city hall are encouraged to wear masks or face coverings. In addition, the Red Cross requires all individuals at blood drives to wear a face mask regardless of vaccination status. Learn more about precautions for city hall visitors at: Visiting City Hall.

Each Red Cross blood drive and donation center follows the highest standards of safety and infection control. Learn more about the Red Cross safety protocols at: COVID-19 and Blood Donation [www.redcrossblood.org].
---
Comptroller Darlene Green is the chief fiscal officer of the City of St. Louis and is charged with safeguarding the city's credit rating and with protecting taxpayer dollars. Visit www.stlouis-mo.gov/comptroller to learn more about the Office of the Comptroller.
Department:


Office of the Comptroller


Topic: