City is Going Google Employee Website is Up!
City Going Google Website is now available.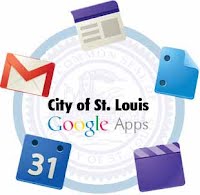 Published: 05-14-2012
The "St. Louis City is Going Google" website https://sites.google.com/site/cityofstl/ is now available. Visit the link to review the upcoming changes to the City emails system.
We thank you for your patience and support as we switch to a better, more reliable email system. If you have questions or suggestions before the big move, please send us a message at
GoingGoogle@stlouis-mo.gov
.
More Stories
Treasurer Tishaura O. Jones joins state legislators and local elected officials to oppose the current stadium proposal in the City of St. Louis
Less red tape and fewer regulatory doors for new business owners in the City of St. Louis
The current stadium funding bill is not fiscally responsible. However, I continue to offer funding solutions.