This article is 5 years old. It was published on October 13, 2016.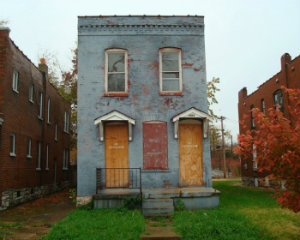 ST. LOUIS-- In a continuing effort to tackle vacancy and abandonment, the City of St. Louis and its partners are training residents in the Dutchtown neighborhood to use a new app designed to collect data and real-time information on vacant buildings and lots.
Loveland, a unique mobile app paid for by the City, was first used by two teams of AmeriCorps volunteers working with the Mayor's Office over the summer. The teams conducted a survey of nearly 32,000 parcels of land, noting vacancy/abandonment or occupied homes. Volunteers documented the conditions and took photographs of vacant/abandoned buildings and lots to create a new database.
The Dutchtown South Community Corporation (DSCC) will train interested residents to use the app to help the City expand its database and keep parcel information up to date.
"We're using the information collected by volunteers and residents to establish a comprehensive set of data about our neighborhoods and communities to better identify opportunities, engage the community, and collaborate on innovative strategies to turn vacancy to vibrancy," Mayor Francis Slay said. "I want to thank DSCC and residents for being community leaders for taking part in this effort with us."
Using the Loveland app and implementing the database are pieces of Mayor Slay's concentrated effort to tackle vacancy and abandonment, which also include the following:
Selection into the Community Progress Leadership Institute has provided technical assistance to the City.
Mow to Own allows City residents to take immediate ownership of LRA-owned parcels adjacent to their property if the resident agrees to continually maintain them.
The City brought in Fresh Coast Capital to plant tree farms on 42 vacant LRA-owned lots. Mow to Own and the tree farms also fit into Mayor Slay's Sustainability Action Agenda on Urban Character, Vitality & Ecology in making LRA land available at no cost for productive reuse of the land.
The City is partnering with MSD to demolish roughly 1,600 of the worst abandoned buildings over the next five years.
Two AmeriCorps teams joined in with Mayor Slay's Vacancy & Blight Taskforce, a public-private partnership made up of City employees, non-profits, residents and developers, to begin creating a comprehensive database of vacant/abandoned lots and buildings.
Residents also are encouraged to report vacancy conditions, especially if a building needs to be securely boarded, to the Citizens' Service Bureau by calling (314) 622-4800 or tweeting @stlcsb.
WHAT:
Loveland App training session
WHEN:  
Thursday, October 13, 2016
5:30 p.m.
WHERE:
Dutchtown South Community Corporation (DSCC) Office
4204 Virginia Ave.
St. Louis, MO 63111
WHO:
Residents of the Dutchtown,Gravois Park, Marine Villa and Mt. Pleasant neighborhoods. Additional information can be found on the DSCC facebook page.
Department:


Land Reutilization Authority