Finding Monarch Garden Plants
Learn where to find STL Monarch Plant Mix for your monarch garden.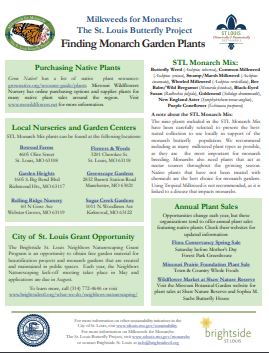 Publication Date: 04/15/2015
Document Type: Informational Pages
Sponsor: Office of Sustainability
Summary
This document contains information about where you can find STL Monarch Mix plants for your monarch garden.
Download
Where to Find Monarch Garden Plants (236.23 KB)
Need Help Viewing?
You need a program that can open Adobe PDF files. A free option: